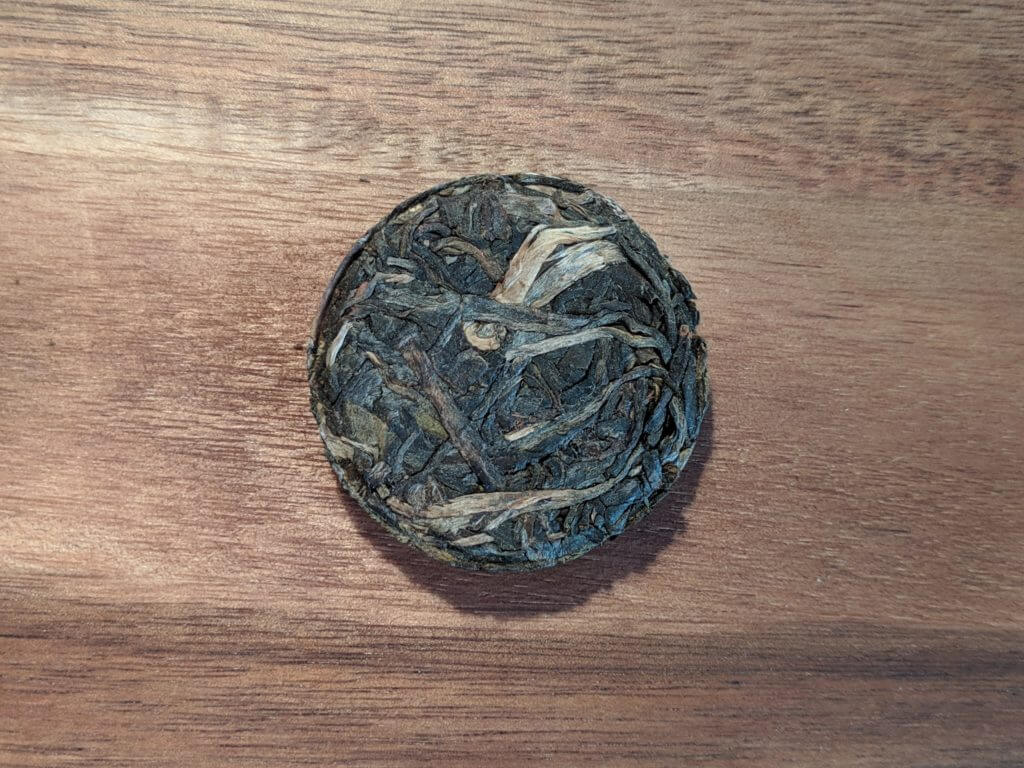 White2Tea's 2017 Boat Captain is a little eight gram cake that, based on their description, is supposed to be a big, burly, brawler of a tea. These little guys cost $1.50 per cake so they are definitely on the budget friendly side of the spectrum and also have a nice, low buy in cost to try out.
Initial Impressions
I didn't try breaking it apart, but based on look and feel I think the cake is pretty tightly compressed. The dry leaves smells like it's going to be pretty strong. It is pretty smokey with high bitter notes and it has a crisp apple scent. To get the cake opening up I left it to steam open a bit in my pre-warmed gaiwan for a while, gave it a 25 second rinse, and let sit for another ten minutes. The wet leaves smell much like they did dry, but with added wet earth and leather scents. The cake has barely started to open up after this, so I went with longer infusions to begin. I am brewing at 90°C, 20 seconds for the first infusion, 15 for the second, third and fourth, and increase by 5 for the remainder of the session.
Infusions 1-4
The first two infusions really didn't taste like much at all. Slightly sugary sweet and a bit smokey, but mostly just water. Despite this, there already is a good, long aftertaste. The smokiness coats your mouth and clings to your tastebuds. The third infusion has a tart bitterness that I like, and the fruity apple notes I was smelling initially begin to work their way in. The fourth is starting to show some increased strength and has a faint tobacco note.
Infusions 5-8
The first couple infusions probably could have still been considered a rinse, but the tea is starting to get interesting now. Stronger on the tobacco and leather tastes, with a bit of clove spice. An occasional damp maplewood taste comes and goes, as does some wet earthiness, but neither is too up front. There is a bitterness and astringency thats like a kick to the face from a mule. The bitterness increases and gets pretty intense as you hold the liquor in your mouth but turns slightly sweet in the aftertaste. The astringency builds after you swallow and completely sucks the moisture from your cheeks, making you salivate until you take another sip. The smoke and apple flavours are pretty much gone by the end of these infusions. I've been agitating the leaves with my gaiwan lid as it brews but still, the cake isn't fully broken up. The photo above was taken after the eighth infusion and the chunk on the lid is what remains together – looks to maybe be a quarter of the cake.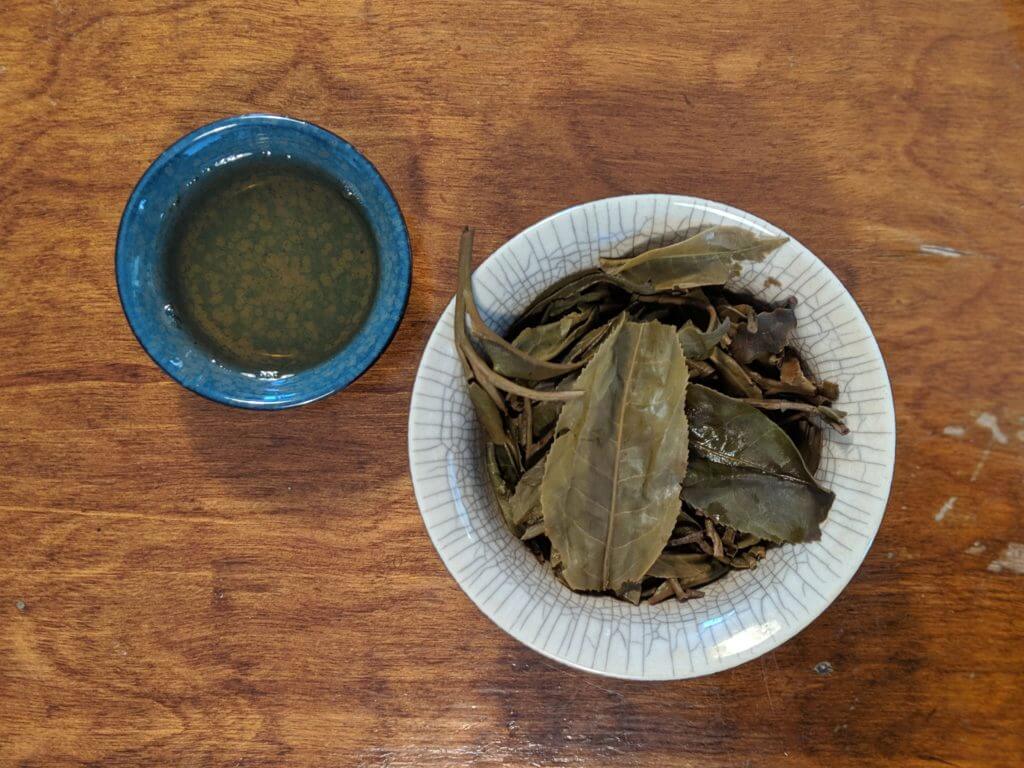 Infusions 9-15+
The ninth and tenth infusion are still strong but the bitterness has been tamed and smoothed a bit. The clove taste is increasing and it hits you right in the back of the throat. By the eleventh infusion the cake has finally broken up. A couple of the infusions have a faint floral taste but it's never too up front. The thirteenth to fifteenth infusions become muted as the tea begins to drop off and I called it quits on the eighteenth. Not too much interesting happened here, just a slow fade out. These infusions were mostly a hickory smoke flavour with a slight spiciness without too much else. I could probably get more out of it with a couple long infusions but by this point the session has gone on pretty long and I'm sufficiently caffeinated so that will be all for me.
Final thoughts
Mini cakes and tuos have a bad reputation of being low quality and uninteresting teas, but I think Boat Captain proves it doesn't need to be this way. The leaves are a mix of large and small but are mostly full and in good condition, as opposed to the chopped bits I've seen in other mini cakes. It's big, bold. It knows what it is and isn't afraid to scream it.
This tea isn't for everyone, but I think if you haven't tried one like it you should at least give it a shot. Some of its qualities might sound off-putting but I should stress that my descriptors aren't meant to be negative. I really like this tea. I think a session with Boat Captain is more about the sensation and feel of drinking than the actual taste of it. My only real complaint is that this tea is only available in eight gram mini cakes. The mini cake is nice and convenient but I would happily buy it in a looser compressed 200 gram beeng if made available.