Lots has been written about puerh storage and many debates have been had on TeaChat, Reddit, the comment section of TeaDB and really anywhere that puerhs fans can congregate. This post will end all debates and tell you how you should all store your tea. Or maybe not. Alright, fine. Definitely not. There is no clear cut answer to how you should store your beengs because we all live in vastly different climates, enjoy different qualities in our teas, want to age them at different rates, prefer wetter or drier setups – there simply is no one size fits all solution. While I can't settle all of these debates, I can at least share what I am doing with my setup and why I think it works.
I started buying cakes in August of this last year so with just over half a year of experience under my belt I don't have nearly the knowledge of many other people who have been doing this for years and have huge collections, but I have done extensive reading on the subject and I encourage you to do the same.
First up, lets break down the storage itself, pictured up top.
The Fridge
I went with a mini fridge for storage. It's not quite air tight, but is pretty close, has a fair amount of space for future purchases and a couple different sections so I can move things around as needed. I'm curious if I can keep smokier shengs segregated up at the top and the rest down at the bottom, but I don't have any really smokey cakes to test this out with yet.
To the right of the photo you can half see a little cheap desktop fan. This is something that I am just experimenting with right now, I don't really know if it's effective or even needed but it gives me a bit of peace of mind. I intend on keeping some cakes for the long haul and mould growth is my biggest concern as the collection expands. From all my reading, the ideal setup has little outside air coming into the storage space with as much tea as you can pack into the space (working on that), but stagnant air can lead to mould growth. This is where the fan comes in. It is plugged into a smart plug so I can turn it on and off easily from my phone if needed, but I also have set it to run for short bursts every few hours to ensure at least some air circulation. Again, I'm really not sure if this is helping like I hope it is, so I'd love to hear what you think.
Not pictured is a mason jar filled with a mix of salt and distilled water to keep the humidity up. This is a dirt cheap alternative to Boveda packs or humidity beads that I think works well. In my setup it keeps the humidity around 60-65%. My only complaint so far is that it takes a while to get humidity back up once it drops. As you'll see below, my humidity is a bit low right now and that is from opening up my pumidors last night to futz with things. Twelve hours later and it's still climbing back up. A Redditor I was speaking with has a computer fan on top of his mason jar plugged into an Arduino, and when the humidity gets to low the fan kicks on. He said this helps get humidity up extremely quickly again, but I haven't looked at implementing something similar yet.
Monitoring temperature and humidity
Tucked into the middle of the cakes there is a Xiaomi Aqara smart temperature and humidity sensor. I have one of these sensors in each of my pumidors and connected to SmartThings, my home automation hub of choice. Using this dew point calculator as a reference, I set this all up so that if either of my pumidors enters a temperature and humidity range that will promote mould growth, I get a notification to my phone and can make adjustments.
From SmartThings I send the data out to an InfluxDB database and Grafana for visualization.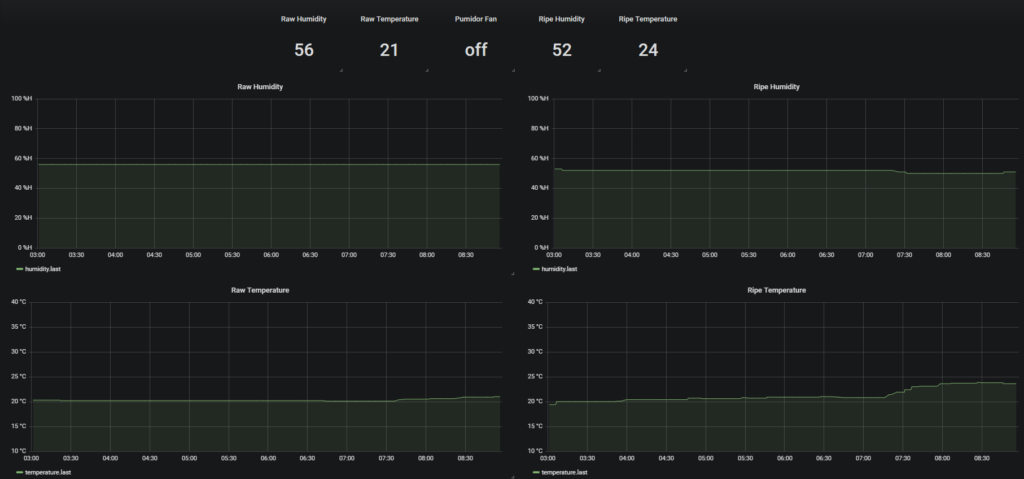 This is nice for a couple different reasons. I'm mostly interested in the long term comparisons. Summers here are hot and humid and winters are cold and dry. Being able to look at different time ranges will help me plan my setup to keep things where I want throughout the year and predict what, if anything, I need to be doing to keep the cakes happy. Also, who doesn't love graphs? This is my nerd side coming out, but it's just fun to set up and mess with this stuff for me. Now moving on to tracking everything. One of the big draws to puerh for me is the change over the years that it goes through. I'm not even just talking about the possibility turning a decent cake into a great one fifteen years down the line, just the whole aging process in general is interesting to me. People tell you a bad cake will never become a great one, but I'm still interested to see for myself how mediocre cakes perform in the long haul.
Tracking and note taking
So with the intention of watching these teas over the next many years I need a good way of keeping track of it all. After testing out a couple different methods I eventually settled on DokuWiki.
All of the cakes I own are just placed in one long page, and at the top I keep inventory of what I have, when I placed it into storage and when I last sampled it.
Below that, I have entries for each cake that includes a picture, the description from the manufacturer and some quick tasting notes. With the intention of long term storage I wanted to make sure I kept the manufacturer notes on to reference back to later, in case product pages get taken down. I keep more detailed notes on Reddit and now this blog, so just quick notes to myself are all I really keep here.
Well I think that wraps it up! If you made it to the the end of this post you deserve a prize. I don't have anything for you, but love and adoration.
This is all experimenting and learning for me, so I would love to hear what you think of the setup, where I can improve, and what you're doing to maintain your cakes!
June 2019 Update
I have done away with the fan, at least for now. After doing a bunch of reading and chatting with people, most agree that it is unnecessary and some think it will do harm. I can't find any real reasoning behind why it would make things worse, but I am taking the opinion of a handful of people much more knowledgeable than I am on this one.