Every now and again I find myself browsing a couple different websites that sell factory cakes, as it's something I haven't really gotten into. I have tried out more than I have reviewed here, but still don't think I have a grasp on, for example, what the classic 7542 taste is supposed to be. So I decided that my next tea order was going to be an exploration into factory cakes and started building carts. Then, as I was rummaging through my pumidor trying to decide what tea to review next, I found a handful of exactly these teas! It would appear that I have already had this idea, acted on it, then completely forgot about it. Whoops. So, here we are. Today, I am drinking a Dayi's 2007 7542, which I have picked up from King Tea Mall at some point in the last couple years. This isn't one of the more sought after pressings, but it's still a 7542 with nearly 14 years of age, so let's give it a whirl.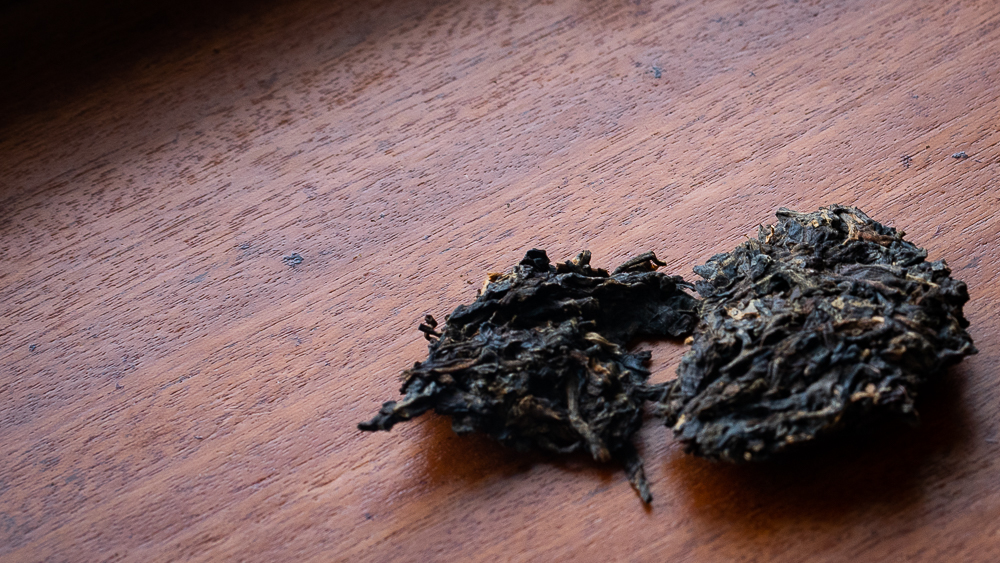 Initial Impressions
The two chunks I have in my sample pack are too small to tell where they came from the cake, but they are very tightly pressed, and I had to carefully and awkwardly use my pick to pry one apart to get it down to an appropriate size. As I mentioned in my last review, storage conditions were tough through winter this year and while my teas are starting to perk up they are still feeling subdued in aroma. The dry leaves have a faint old book-ish smell, but I have to get right up close and really breathe in deeply to get anything off of them. After a rinse I get a little bit more but still not much. Little bit of wood, touch of leather, maybe a bit dusty smelling.
For this session I am using 3.9 grams of tea in my 55ml-ish gaiwan, water just off the boil and infusions times starting at five seconds and increasing by five each additional steeping.
Infusions 1-3
Infusion one is mellow, smooth, and warming to the core. There is a slight syrupy sweetness and the texture is like a meaty broth. The aftertaste is one of wood and apricot, and it leaves quickly with an astringency coming back on you a minute or two after the last sip, hitting me in the far back of the throat and making me cough. Infusion two has a light bite right off the hop followed by a quick and intense tingling sensation all around the mouth. The flavour here is nice but unremarkable – generic aged sheng taste with a dark forefront and a bright finish. The third infusion is more full and adds in a dried tobacco note, and everything is well balanced with nothing jumping out. Aftertaste still vanishes quickly, leaving behind a heavy astringency.
Infusions 4-6
The fourth steeping gains a jam-like sweetness and apricot becomes the main note, followed by wood, then something on the unpleasant side that I can't put my finger on. More of the same for the following two infusions, I think the taste I'm not a fan of is quick hit of smoke, but it disappears so quickly I can't identify it. If I drink the tea slowly, or hold the liquor in my mouth and swish it around, it becomes rough, massively astringent and bitter. If I drink it with some urgency and shoot it back it's more enjoyable – this causes me to miss out on any real flavours and only get the body sensations. Seeing as I'm not loving whats going on at the moment anyway, that's not the end of the world.
Infusions 7-12
The tasting notes become more separate at these later infusions and morph from one to another. Sweetness continues to grow, and it moves from a light apricot jam to something that reminds me of rock candy, followed by dark honey then dry wood. By the tenth infusion most of the flavour and any sort of depth has left, but the tea is still pleasing to drink, leaving me feeling very relaxed. It's all smooth with no bite whatsoever now. As it declines further through to the twelfth steeping, the only tasting note is dried wood, occasionally with a slight charred taste.
Final Thoughts
The 2007 7542 overall isn't one that I would choose to drink based on taste, but I love the feeling from drinking it. Great texture, strong amount of tongue and mouth sensations, nice astringency. The middle steepings definitely put a damper on things for me though and I'm left with the same thought I often have with many factory teas – "This would be a fantastic tea if not for ______." Here, it's the middle three or four infusions that get a bit hairy and if not for that unpleasant charred, smoky taste that takes over, I would probably be a big fan. Being very far from an expert in aged sheng, I don't know if a few more years would mellow that out a bit more or not, but if so I would probably have a much more favourable opinion. I could also see it being different if I lowered the temperature a bit for the mid section, which I'll probably do next time I give it a try. At the time of writing, a 357 gram cake is $73 USD, or about $0.2 per gram. To me, that's a fair price to pay for a tea like this, and after my next session with a bit of experimenting with brewing parameters I might grab a cake to see how it does with more time. If it were a 200g cake it would be $40, which would be a no-brainer grab for me. $73 is a good chunk of change to drop on a tea I don't love, so I'll need to try it out again before committing to a full sized cake.