It's been a while since I've had a Fangmingyuan sheng, but I came across a sample of their 2010 0812 while digging through my pumidor the other day. As it's been sitting for a while, I've forgotten what drew me towards this tea in the first place so I'm going into this review more or less blind. I do have some past experience with Fangmingyuan though, so I think I have a general idea of what to expect.
This tea came to me as a free sample from Tea Encounter.
Initial Impressions
Despite being over a decade old, the dry leaves smell very bright, fresh, and fruity. After a rinse notes of currants, saskatoon berries, and leather come out.
For this session I am using 3.65 grams of tea in my 55ml gaiwan, 100C water, and infusion times starting at five seconds and increasing by five each additional infusion.
Infusions 1-3
Immediately notable is how strong the wet leaves smell. I keep getting big whiffs from it as my gaiwan sits on the table with its lid on. The taste is smooth and light, with notes of menthol, leather, fresh berries and dark fruits. Infusion two is all around bigger, though still light. The mouth feelings, however, are anything but light. There is a large tickling of the tongue and a nice big puckering in the cheeks. The aftertaste quickly leaves and slowly comes back on you with a honey sweetness. Frutiness moves to the back for the third infusion and an old library note takes over – dusty leather, rich mahogany come to mind.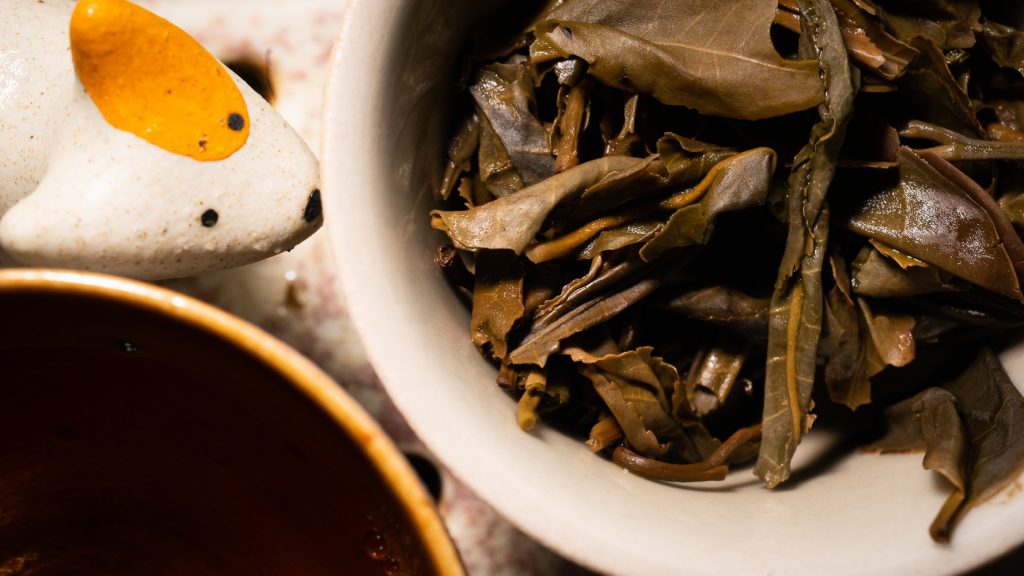 Infusions 4-6
A sort of generic tea flavour takes over at the fourth steeping, generally fruity and sweet with the base aged taste underneath, but there is not much to note. Most tasting notes disappear at the fifth steeping and is replaced by a simple but delicious sweetness, and this remains at the sixth steeping. There is also nice and slight bitter punch but not much else is going on. While there is a lack of taste to talk about, the mouth sensations are still fantastic and the drink is calming and pleasant.
Infusions 7-10
Infusions seven and eight see a return of a little woodiness and menthol tastes, but the tea is clearly winding down. By the tenth infusion the session has come to an end.
Final Thoughts
I think this was one of my shorter reviews – there isn't too much to comment on with this tea. It's nice and I enjoyed it, but there isn't much going on to talk about. The big kicker here which I hadn't mentioned – this tea sells for $0.16 CAD a gram. For some perspective, a fresh brick of huang pian material from Bitterleaf will run $0.11/gram. This tea is dirt cheap and hits the mark of a simple, easy going tea that you can enjoy without having to focus on, no off notes or anything that would upset someone and with a decent light aged flavour. A tea like this definitely serves a purpose, and if you're looking to fill that slot in your pumidor, it's hard to not recommend.