For the last few years the, White2Teas has sent out a "Hype" cake for their June tea club. Provided this year follows the same trend, you've got a few weeks to sign up if you want to take advantage of this, so I wanted to try out 2020 Green Hype to see how it's sitting. White2Tea changes this blend up a bit from year to year. I haven't tried the early productions, but they were known to be big, bold, and in your face – the general impression that I got from people was that it needed a couple years to settle down a little bit. For the last two years, White2Tea has added aged material into the blend to help smooth things out while retaining the general character. I think this paid off, and I absolutely loved the 2019 version, but I wanted to let this one sit for a while so it's been sitting unopened in my pumidor for the last ten months.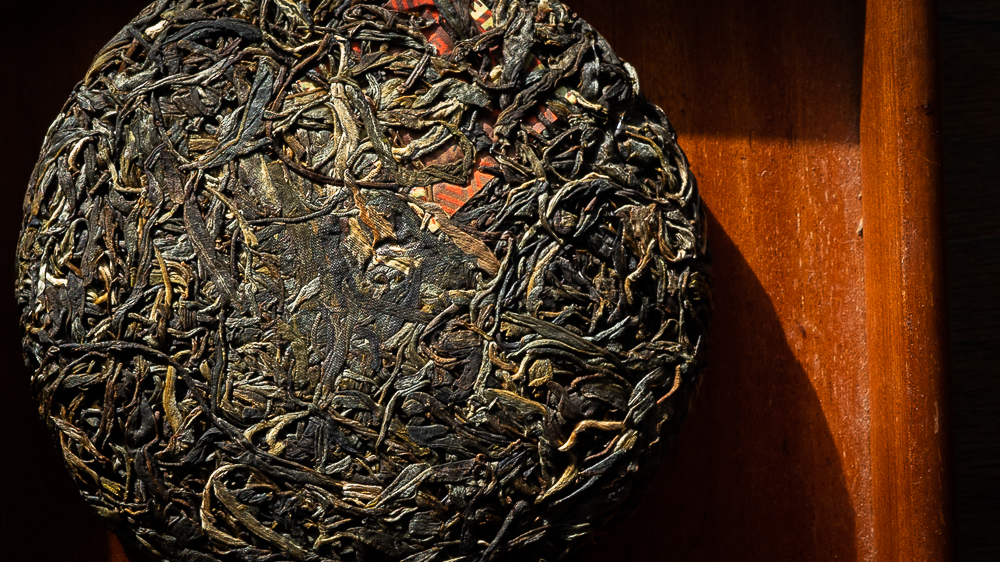 Breaking the Cake
The dry leaves surprisingly smell a bit green to me still. A bit of sweetness comes off the cake, but there is still a vegetal base there. This disappears after a rinse and the leaves turn to pure stone fruit. It's big, rich, juicy and delicious smelling. For the most part the leaves are large, but there is some variety in size and colouring.
For this session I am using 3.6 grams of tea in my 55ish ml gaiwan, 90C water, and infusion times starting at five seconds and increasing by five each additional steeping.
Infusions 1-3
The first sip of Green Hype is deceptive. Immediately it is watery and empty but it slowly expands in your mouth and continues to awaken as the liquor cools. It's definitely powerful with a youthful bite, but there are fruity layers wanting to burst through. These fruit notes move forward for the second infusion, and there is lots going on if you look for it. Currants, cherry and plum all come to mind, combined with a bitter hit and a long lasting sweet aftertaste. The tea makes me feel hot in the head and sweaty. Infusion three is all dark cherries, quick bitterness, and crazy powerful astringency.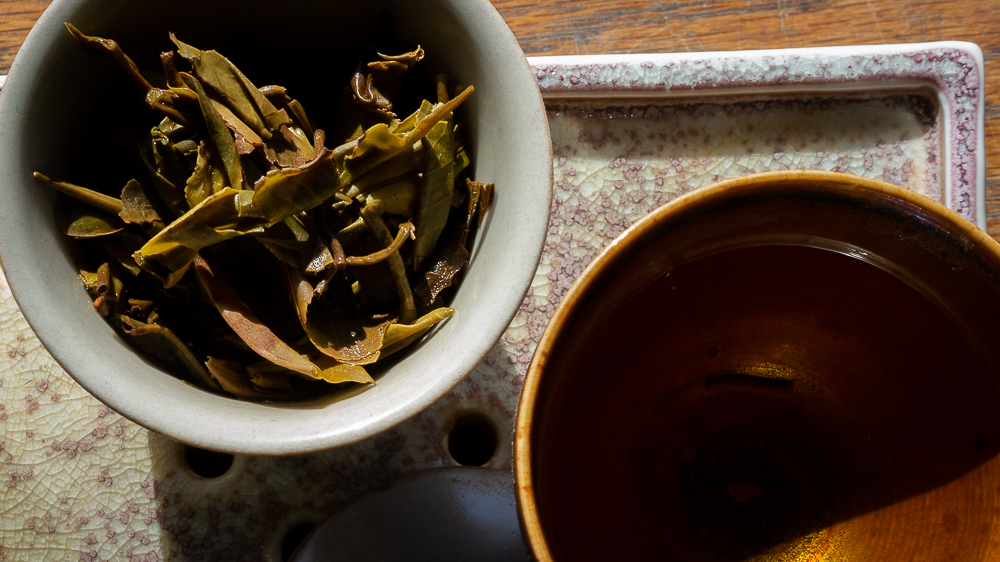 Infusions 4-6
Infusions four through six are all similar without changing much from one to the next. The overall taste is juicy stone fruit, but not too much comes through – the focus of these infusions is straight up power. It's a repeated kick to the face… in a good way, you want to keep going back for more. I can't properly describe what makes this tea feel so huge, it just does. It commands your attention, grabbing you and not letting go. It's not bitter, but astringency is through the roof.
Infusions 7-12
Boldness peaks at the seventh or eighth infusion and quickly drops off. As it eases off, the taste gets brighter and fresher, almost green tea-like. Slight grassy flavour, maybe a bit of nuttiness. It's very suddenly calm and comparatively boring. This is okay – it's like the cool down after an intense workout. It provides a needed wrap up to the session and lets you relax a bit before going about the rest of your day. At infusion ten most flavour is gone and there is only sweetness remaining with a quick cooling in the roof of your mouth in the aftertaste. This continues to the twelfth infusion and dies out by the thirteenth.
Final Thoughts
White2Tea's 2020 Green Hype does it for me. It's an exciting, fun adventure tea that takes you for a ride, but you should know what you're getting into before picking it up. It's not a nice tea. It's not a deep tea. It's not a refined tea. It's a big, burly beast. Turn off your brain, buckle up and enjoy. I think at the current price of $38 USD for a 200 gram cake it provides a great value, and if you get it for $30 in the tea club it's a steal. I'm sort of tempted to drink down my 2019 cake and leave this one to see how it evolves over time, but it's also at perfect "drink now" point for me, so we'll have to see if I have the self control to stay away long enough to let it age.