Bitterleaf Tea's 2019 Don't Be Sad is a new huang pian brick made out of Hekai material, some of which is huang pian from their Big Old Ass Tree production. Generally speaking I'm a big fan of huang pian teas, especially those from Bitterleaf. These puerhs are extremely budget friendly and I have often found myself preferring an HP brick over a cheap non-HP sheng cake. As I absolutely loved Big Old Ass Tree, I'm excited to see what Don't Be Sad has in store.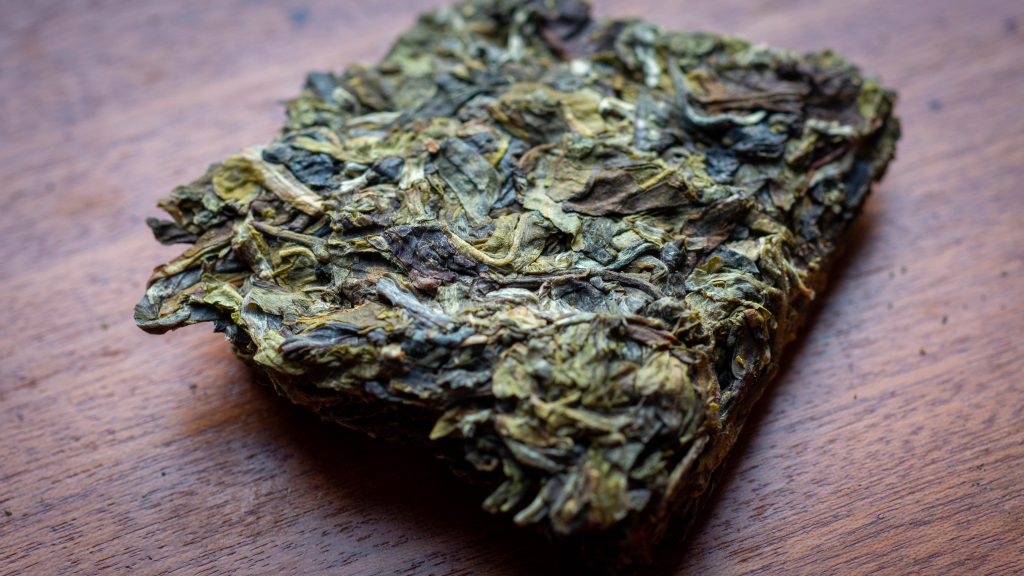 Initial Impressions
My sample chunk of Don't Be Sad initially has no noticeable smell, but it comes alive as I start to break it up. The scent is mainly floral with a general frutiness behind it that's not well defined but it is strong. Oddly, this smell doesn't seem to develop at all after a rinse. It remains more or less the same strength and nothing much changes.
For this session I am using 3.9 grams of tea in my 55ml gaiwan, 90C water, and infusion times starting at five seconds and increasing by five each infusion.
Infusions 1-3
Don't Be Sad starts out sweet and broth-y with a fast bitterness that quickly turns sweet. The aftertaste has a light medicinal note and causes heavy salivating. Infusion two is a little bit fruity and the medicinal note moves from the aftertaste to the forefront. It's got a that odd latex, dentist-like taste that I've noticed in a puerh recently (but for the life of me can't remember which one), which sounds off-putting but really isn't. The third steeping is bigger in all aspects but nothing new comes out. Sweet, medicinal, simple, lovely, really nice mouthfeel, but there isn't much complexity to explore. I think there is more to come though, even for a brick this tea was very hard compressed and my little chunk is just beginning to loosen up.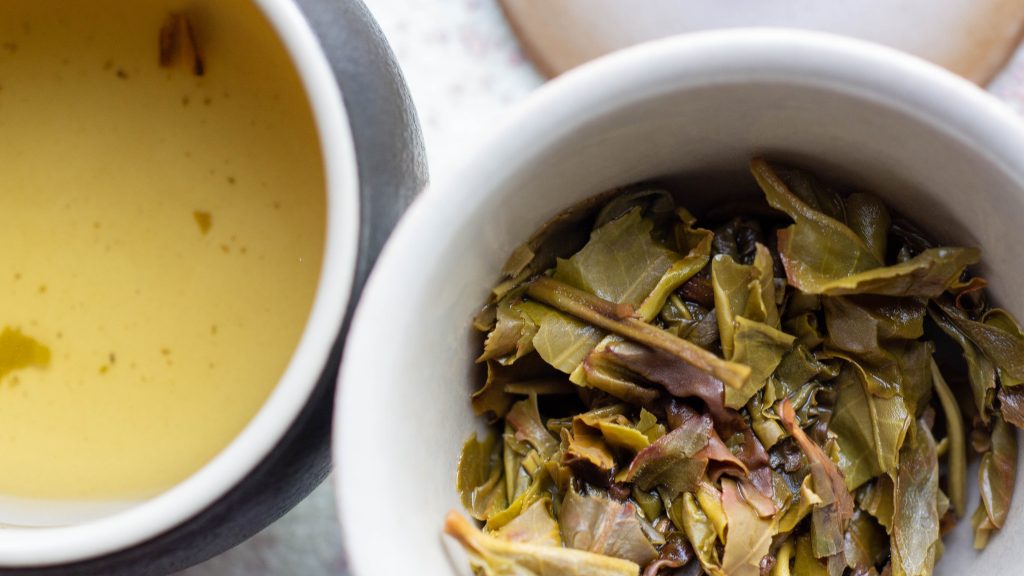 Infusions 4-6
Infusion four is more of the same, but at the fifth something changes and suddenly the tea is lively and vibrant. The flavour covers a full spectrum – bright cherry note on top, a delicious dirty earthiness in the bottom, medicinal note still coming through in the midrange, and some floral notes filling in the gaps. The latex-y taste fades out at the sixth steeping and I get a canned fruit syrup type of feeling. A little bit of bitterness creeps in and the tea gets a tad harsh in the top end, but I'd still say this is easy drinking and smooth.
Infusions 7-16
Bitterness grows through infusions seven and eight then completely drops off at the ninth. The notes here change rapidly each cup from floral and sweet, to a broth-y, savory, cling-to-you-bones-beef-stew kind of thing. Around the tenth infusion it switches to predominantly fruity and stays that way as the tea fades out at sixteenth infusion. Cherry, pear, apple and a touch of plum are the main fruit notes I get for the last bit of my session.
Final Thoughts
Although I went for sixteen infusions with Don't Be Sad, that's a little bit misleading, as it took a while for this tea to get going. Next time I drink it I would probably give it a much longer rinse and first infusion to get the tea moving along and then I would expect I'd probably get an average amount of life from it after that. Outside of that, this is a great tea and more or less what I've come to expect from Bitterleaf's huang pian offerings. In a blind tasting it most likely wouldn't knock your socks off, but you also probably would guess that it costs a heck of a whole lot more than $0.11 USD/gram.