Yunnan Sourcing's 2013 Nan Po Zhai is a puerh I know next to nothing about. It's not a cake that I've seen much buzz about, I haven't heard of the area (other than the description saying it's right by Bing Dao), and the sites description has no tasting notes whatsoever other than it's "powerful and textured." I usually like to do a good amount of research on teas before I hit the checkout button, but this one came to me from a tea friend so I am really going in blind.
Initial Impressions
My sample pack has two good sized chunks in it with a little bit of loose leaf, and both chunks are very tightly compressed. The leaves have a distinct toffee aroma, with a light fruity pear note. After a quick rinse the leaves take on a brighter fruit note in the realm of apple, and a dry white wine scent.
For this session I am using 3.8 grams of tea in my 55ml gaiwan, 90C water, and infusions starting at five seconds and increasing by five for each additional steeping.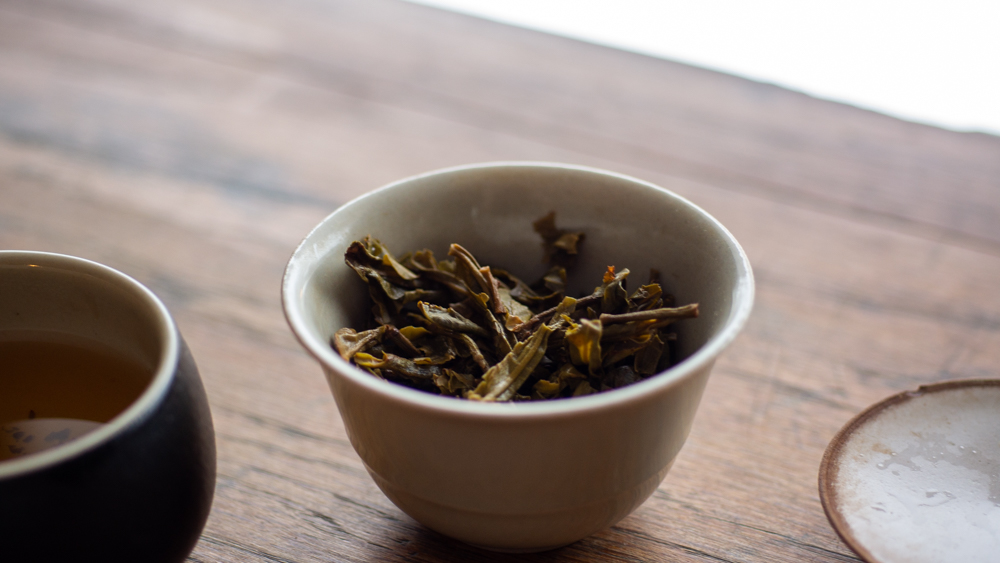 Infusions 1-3
The first sip of Nan Po Zhai feels well rounded, calm and deep. The most up front note is toffee, just like I was getting from the dry leaves. Each sip brings in something new – there is a slight stone fruit note, a bit of orange-like citrus taste, and a long lasting sweet caramel finish. Infusion two ups the candy-esq sweetness and is joined by a bit of friendly bitterness, astringency and very mild smoke. The mouthfeel is thick and similar in texture to canned peach syrup. The third infusion gains a bit more of the smokey taste and a huge jump in astringency.
Infusions 4-6
Infusions four loses a bit of the bitterness and smoke, with savory notes filling in the gaps. Holding the liquor in your mouth you get a strong feeling of a heavily salted beef stew. The saltiness hangs on in the upper back of your throat and on the roof of your mouth, growing for long after you have swallowed. All harsher aspects of the tea have disappeared by the sixth steeping, with the exception of the astringency which comes and goes in waves. When it's there it's right up in your face, but it's not constant. Through infusions five and six I get some oak-y wood notes, accompanied by more citrus. These two notes play well with eachother and make for a well balanced overall taste, with both a good bottom end and top end sparkle.
Infusions 7-16
Sweetness takes a jump up at the seventh infusion and continues to increase through to the tenth. At it's peak it's almost overwhelming and you feel like you need to take a quick break to go brush your teeth. The saltiness from the beginning of the mid section pops up randomly and much like the sweetness, it's so forward when it shows up that it overtakes everything else. At the ninth infusion I get a floral, perfume-like taste and aroma that sticks around for two or three steepings then fades away. Flavour starts to drift away at the tenth infusion and it makes a very slow and graceful decline until the sixteenth when I wrapped the session. The tail end here was mostly earthy and meaty in flavour. Impressively, the mouthfeel never seemed to die out. Even at the sixteenth infusion when there was next to nothing going on in the taste department, the texture was still satisfying and thick.
Final Thoughts
Truth be told, I'm not quite sure where I stand on Yunnan Sourcing's 2013 Nan Po Zhai. The texture is stellar but the flavour profile, while enjoyable, isn't something I crave. The tea is different enough from everything in my pumidor that I wouldn't mind having 100g or so kicking around to occasionally pull out, but if I bought the full 400 gram cake it would probably outlive me.
After I finished up my session I did some more searching to see if I could find other reviews on this tea to compare notes with and came up blank. Nothing on Steepster, Reddit, no blog posts, nothing on any forums I could find… The closest I came across was a recent post on MattCha's Blog where he reviewed Yunnan Sourcing's 2018 autumn pressing from the region. Being a few years apart and a spring vs autumn production, these two cakes aren't directly comparable, but it seems to me that the heart of this tea remains the same. He notes lots of saltiness and savory qualities, big mouthfeel, strong bitterness in the midsection, wood flavour, and more floralness than noted here. What I found most interesting is that he also noted the strong saltiness. During my session it was so distinct and obviously salty, but I kept questioning it because I haven't noted this in any puerh I have tried before.
If you've tried this tea I'd love to hear what you think! Also, if there is somebody out there with a full cake who maybe wants to offsell a quarter, feel free to shoot me an email!