Yiwu Mountain Tea's 2005 Yiwu Gushu Huangpian is a blended sheng puerh made from 2005 huangpian material from several Yiwu villages. Instead of offering a cake, this material has been pressed into a big 3 kg pillar, and you can buy samples ranging from 10 grams up to a full log, if you're feeling particularly spendy. Yiwu Mountain Tea is a brand new vendor for me, and this sample came my way through a trade with a tea friend a few months back so thanks to Kelly for hooking me up!
Initial Impressions
Both the wet and dry leave have a strong, old library type of aroma – leathery and woody with a bit of spice and tobacco. The leaves are very dry and seem to be extremely tightly compressed, although my sample is in small chunks so it's hard to say for sure.
As this is an older huangpian puerh, I'll be upping everything a bit from my normal brewing parameters. For this session I am using 4.10 grams of tea in my 55ml gaiwan, 100°C water, and after a quick rinse, infusion times starting at 15 seconds and increasing by 5 seconds each additional steeping.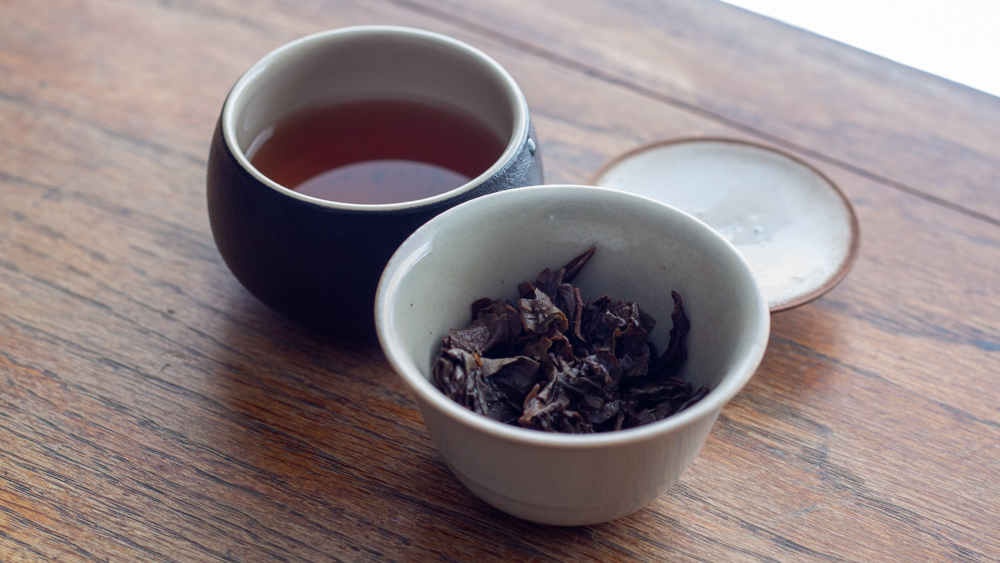 Infusions 1-3
Infusion one starts like the leaves smell – wet oak is the most up front note and after you swallow the liquor you get sweet burnt caramel in the finish. The second steeping sees an increase in flavour, but it still is on the softer side. Infusion three is where the tea really starts to come alive. I am getting some spice notes, camphor, and a bright plum fruitiness as the liquor starts to cool. A light astringency shows up in your cheeks and slowly builds long after the liquor is gone. The tea is exceptionally smooth and is very easy to toss back if you don't restrain yourself.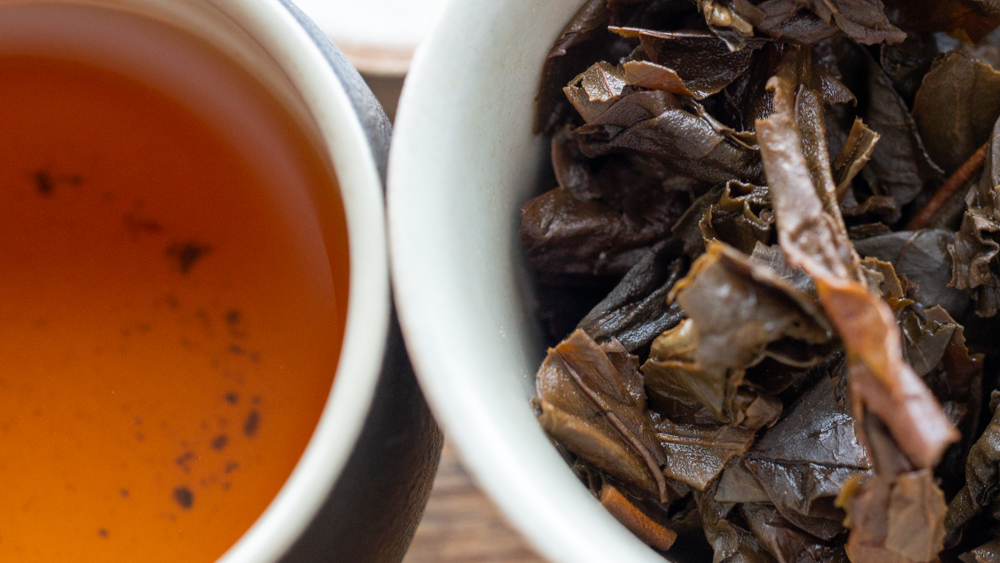 Infusions 4-6
I am beginning to notice the lack of body in this tea. By the fourth infusion the flavour is huge and robust, but the body is thing and doesn't match up to the flavour production. A tobacco note starts to peak it's head in at the beginning of the mid section and it takes centre stage through the fifth and sixth infusions. The caramel-like sweetness starts to turn into more of a maple syrup one and continues to grow both in the forefront and aftertaste.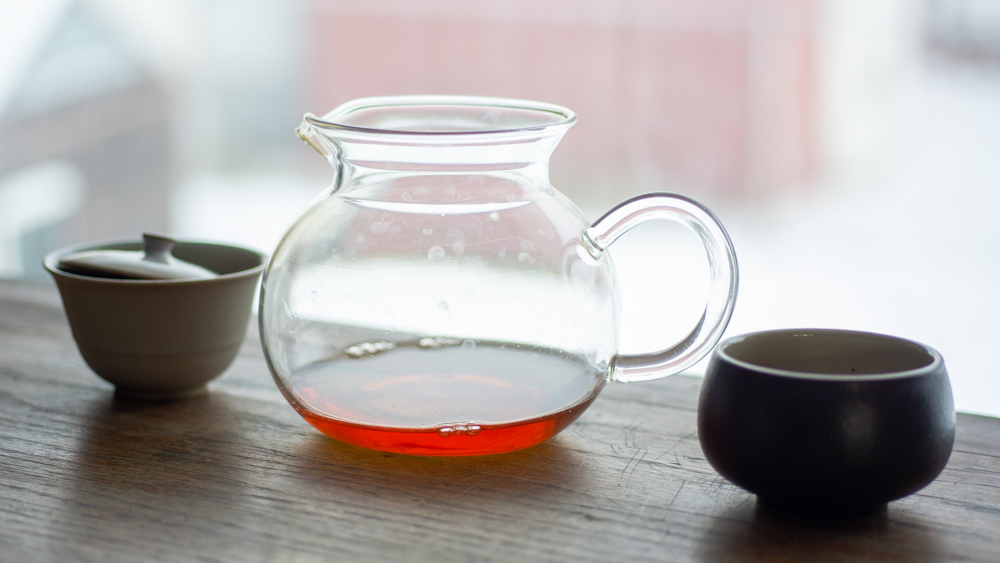 Infusions 7-16
Flavour continues to build through infusions seven through nine with the biggest increase in the camphor note, which is coming though strong now. The astringency is also up and I am getting a little bit of bitterness, but it still remains smooth and easy going. The fade out begins at the fourteenth infusion and moves quickly, with the tea being done at the sixteenth infusion. Right at very tail end, in the last couple of infusions I get a bit of tart and sour notes that weren't present before. They were, to me, unpleasant but would have been totally unnoticed had I ended my session just a touch earlier.
Final Thoughts
I really enjoyed my time with this tea and after finishing up my session went to the Yiwu Mountain Tea website to see what they sell it for. Much to my surprise, this tea is ridiculously affordable, selling for under $50 for 200 grams. This does come with a warning though – they found some golden flowers (a fungus found in some teas) in this batch and are still selling it for those who want it, but have noted this so nobody is surprised. Personally, that's not something that would keep me away. Being able to pick up a puerh with fourteen years of age on it for about the same price as a budget friendly cake is pretty attractive to me. Yiwu Mountain Tea's 2005 Gushu Huangpian is definitely going near the top of my to-buy list.