This year I grabbed samples of the full lineup of 2019 Bitterleaf Teas' sheng puerhs, but as they were pressed a bit later in the year I've been holding off on doing reviews so they can settle in. I reached out to Jonah to ask which of their teas he was digging on right now and his response was Plum Beauty, so I figured that was a good place to start! This is a perennial offering from Bitterleaf, made of Mengsong material from a left-to-grow garden, and is a cake that usually proves to be a fan favourite.
Initial Impressions
Plum Beauty seems to have the usual compression I expect from Bitterleaf, which I would call a light-medium. The dry leaves are pretty standard smelling, but after a quick rinse become very powerful, with a floral aroma that fills the room. Processing of the leaves looks to be up to the standard of Bitterleaf, which is to say very good despite being a more budget friendly cake.
For this session I am using 3.8 grams of leaf in my 55ml gaiwan, 90C water and infusions starting at 5 seconds and increasing by 5 each steeping.
Infusions 1-3
Plum Beauty is attention grabbing right off the hop, with a thick mouthfeel, strong sweetness and quick aftertaste. The second infusion goes a little bit tannic, but the sweetness grows and keeps it in check. A juicy raisin taste builds with each sip and is slowly joined by a slight plum flavour through the third infusion. According to Bitterleaf, the plum qualities are expected to really show up as the puerh ages, so I was a bit surprised to notice it at all while it's this young. So far Plum Beauty doesn't have any deep lows or bright highs, it floats right in the mid-range of flavours to me.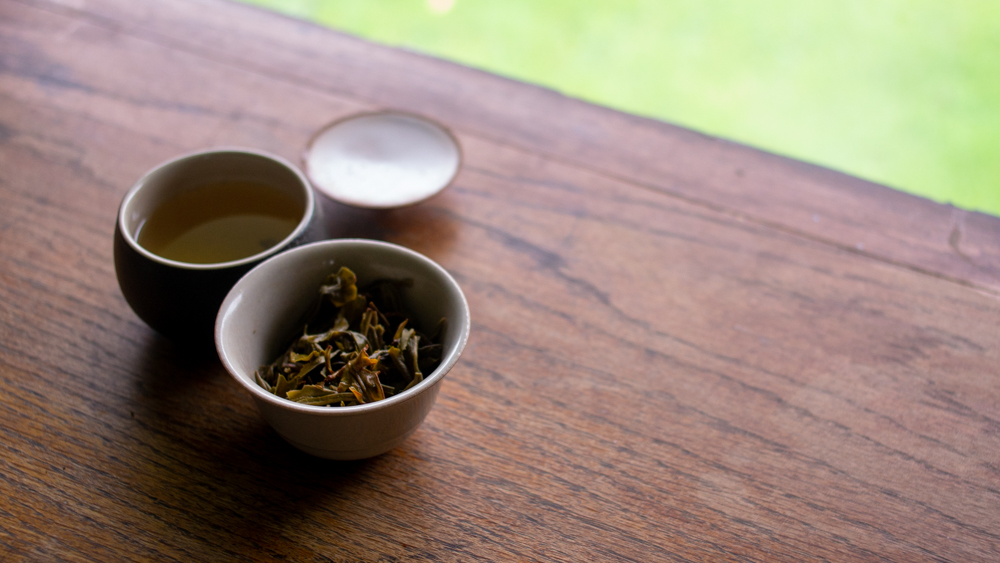 Infusions 4-6
Infusion four sees a drastic increase in mouthfeel, getting much thicker and smoother. The next infusion brings on a familiar and warming feeling – there isn't any spice note, but this feeling is still something that I could associate with maybe cinnamon. Infusion 6 is all around larger and more full, but no new tasting notes are brought to the table.
Infusions 7-13+
The seventh infusion softens up a bit and again for for the eighth, it seems like the tea is beginning it's wind down. As the end draws near there is never any quick drop off, just a slow and gradual fade out. At the thirteenth infusion I called it quits, but I probably could have pushed it a bit longer if I had the time.
Final Thoughts
Plum Beauty is a solid tea, through and through. It is gentle and lovely, with a great mouthfeel, nice balance of sweet and bitter, and wonderful taste that I think anybody could get behind. It's not a tea that keeps you on your toes and not a tea to wow your friends with, but it's something you can enjoy at any time and not overthink. Bitterleaf says that the plum notes should start really showing up after a handful of years storage so this could be a great cake to double up on and watch how it ages.