Today's review is of a tea that I'm extremely excited about – White2Tea's Very Old Huangpian. I was interested in this tea since first seeing it up on the shop and frequently hemmed and hawed about grabbing some, but I never got around to actually ordering. Recently, an online tea friend sent me a care package and he included a small sample, so I finally got to give it a shot.
This tea is a sheng puerh made of… well… very old huang pian material. TwoDog bought this tea for himself from a private collector but decided to put it up on the site to share the wealth. He says that the true age of the tea is anybody's guess, but that it's the oldest and cleanest stored huang pian sheng that he has had access to. Online, I have seen people speculate it's age as anywhere from the late 80s to the early 90s. I am only mentioning this so that you have a rough idea of it's age and I want to stress that TwoDog doesn't make any of these claims himself.
Initial Impressions
This is by far the oldest puerh I have had, and I was expecting more of an aroma off the dry leaves. There is a little bit of woodiness, but it's pretty faint. After a rinse I am getting one note, which is a strong apricot smell.
For this session I am using 3.5 grams of tea in my 55ml gaiwan, water at a full boil and one rinse followed by infusions starting at five seconds and increasing by five each steeping.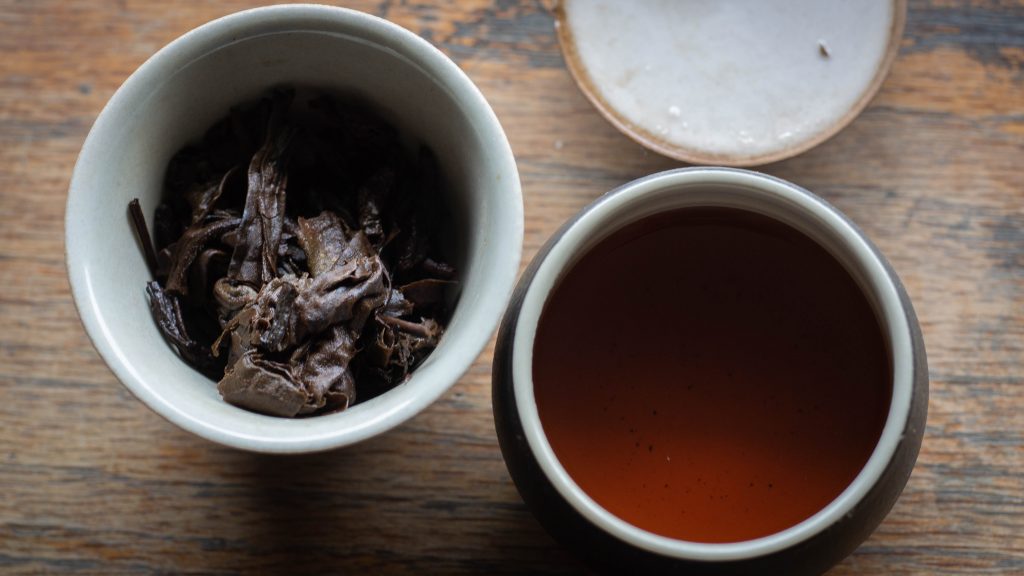 Infusions 1-3
Very Old Huangpian comes in strong on the very first sip with a deep oak taste combined with a touch of vanilla/slight leathery flavour. The second infusion increases in the fullness of all the previous notes, and adds in something that feels familiar but I can't identify. I hopped over to the White2Tea site to read TwoDog's notes and he mentions incense, which nails it for me. This tea tastes like an old church smells…in the best possible way. The third infusion again gets stronger overall, and adds in a touch of fruitness that is in the general plum realm, but it isn't distinct. The aftertaste is faint but long lived, with a sweet vanilla bean flavour and a medium amount of menthol-like cooling. Very Old Huangpian's mouthfeel is in the mid-range of thickness, having a good oily texture but nothing over the top.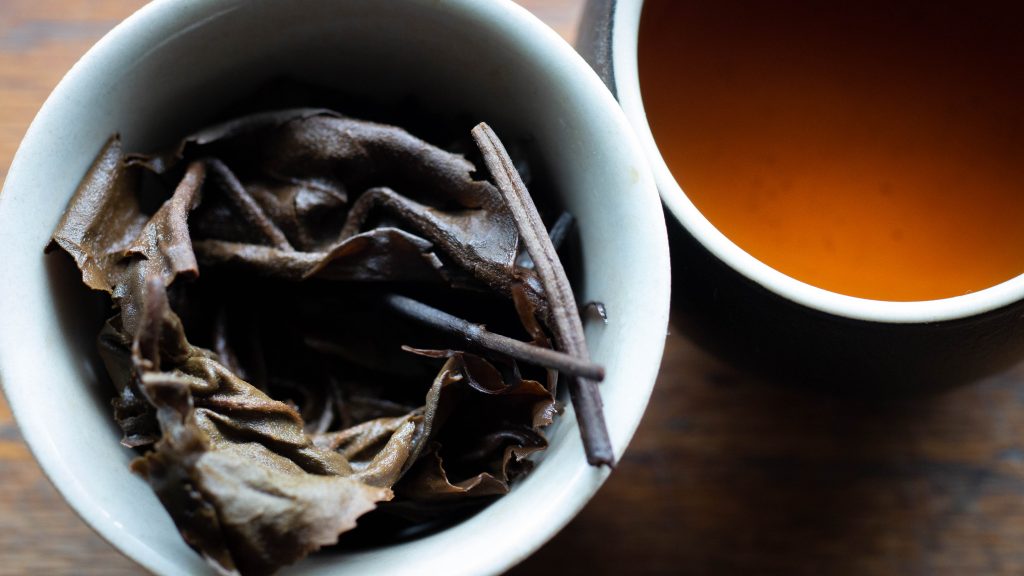 Infusions 4-6
Through the mid section no new tasting notes come into play, but each infusion sees the main tasting notes move forward and back in the mix. I'd be tempted to call this tea a one-trick-pony, but that would be insulting as it tastes so damn good. It's also incredibly smooth and clean tasting. If it wasn't so expensive I would absolutely be chugging this back. There is a notable difference in the aftertaste though, which has increased significantly in both power and longevity.
Infusions 7-18+
The intensity of flavour seems to have peaked early, around the sixth or seventh infusion, but, rather than starting to drop off it's held there at more or less the same level for a few more infusions. During this time again, nothing is really added or taken away from the tasting notes. The tenth infusion is where I noticed the first slight decline, and from there it very slowly fades out. In these late steeps most of the incense note has disappeared and a distinct honey sweetness has taken over. I have used "honey sweetness" as a description before, and I generally mean it as the type of sweetness – honey as opposed to a white or brown sugar kind of thing. In the case of Very Old Huangpian it actually 100% tastes like a spoon full of honey. I don't think I've had it this clear before. Flavour was pretty faint by the 18th infusion, and I called it quits in the early 20s when it tasted like slightly sweet water. I think it would be safe to say Very Old Huangpian gave sixteen solid infusions and anything above that depends how long you want to push it.
Final Thoughts
In my opinion, to call this a great tea would be an understatement. It's the perfect tea for waking up on the weekend, realizing you have nothing to do with your day, wrapping yourself up in your comfiest blanket, and enjoying the calm bliss. It's the kind of tea that I could see myself having in the evening after a long day of work to unwind, rather that one to get me up and going in the morning. Depending on what your normal tea budget is, you might have a good amount of sticker shock looking at a cake, but I honestly feel like it's worth it – at least to try. A 357 gram cake is being sold for just under $650 Canadian, which is a solid chunk of change and more than I am willing to spend personally, but the per gram price is totally fair in my opinion. If you haven't had a cleanly stored, fully matured sheng before, I strongly recommend grabbing a sample. If you love it and can't justify the price this could definitely be a good cake to split between a few friends. For myself, while I absolutely loved my session with it, I would see myself sitting on it and bringing it out only on certain occasions. I won't be buying a cake, but I'll absolutely be picking up a 25g sample to keep in my pumidor.