For part two of my three part tasting on Crimson Lotus Tea's "one-of-a-kind shou" set, I opted to try out the Lao Ban Zhang. Of the three ripe puerhs this is the most pricey, coming in at a whopping $32 CAD for eight grams. Even though this comes in at $4 CAD per gram, this is made from second spring picking material, as the first picking would be even more costly! I don't know too much about the Lao Ban Zhang area, so this is new ground for me. Crimson Lotus describes this tea as having "damp soil, woodsy forest after the rain aromas," creamy flavour that starts bitter and quickly fades to sweet, and a thick body. I'm beyond excited to give this a try, so enough intro – lets get to it.
Initial Impressions
The wet leaf aroma is lighter but smells phenomenal. Molasses base, with a touch of mushroom and wet earth. If you're into appreciating the look of your tea, this is a good one for it – the leaves are whole, large and beautiful.
For this session I am using four grams of leaf in my 55ml gaiwan, water at a full boil, and infusions starting at 5 seconds and increasing by 5 each steep, after giving one quick rinse.
Infusions 1-3
I think Crimson Lotus' description of this tea is bang on. Great amount of depth to the taste even from the first infusion, strong wet soil base with a bitter punch that quickly becomes sweet. After swallowing you are enveloped with a full body warmth that starts in your core and slowly moves out all the way to your finger tips and toes. The second infusion has increased bitterness and gains a mossy taste. The third infusion doesn't add anything new, is deeper and more full – everything tastes alive. The texture is thick and creamy, but I am getting a little bit of fine tea dust through my filter, so it also has a bit of grit to it. This is lessening each infusion, so it should be totally smooth soon. The aftertaste is short but marked by a wonderful brown sugar taste.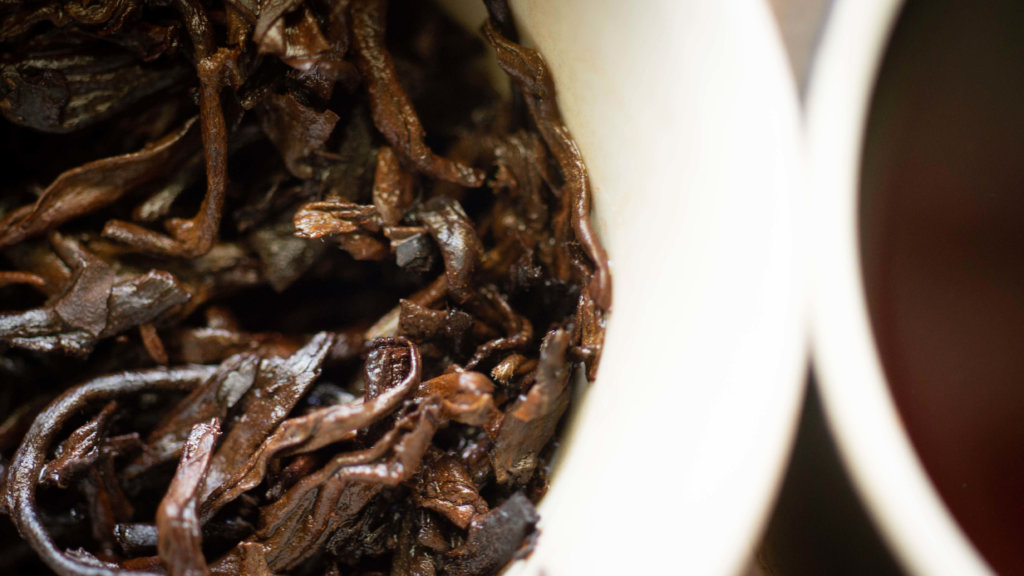 Infusions 4-6
Infusion four takes on a dark chocolate and heavily roasted coffee tone. Infusion five gains black cherry notes. The complexity of this tea is really coming through now. Every time something new is added it brings the taste to a new level. Nothing is ever taken away, just new layers get added on. Infusion six, like infusion three, doesn't add any new flavours, but, again becomes bolder and more full. Sometimes the bitterness is a bit much for me and is overpowering. It's a fast bitterness that morphs very quickly to sweet, but the initial bite is strong.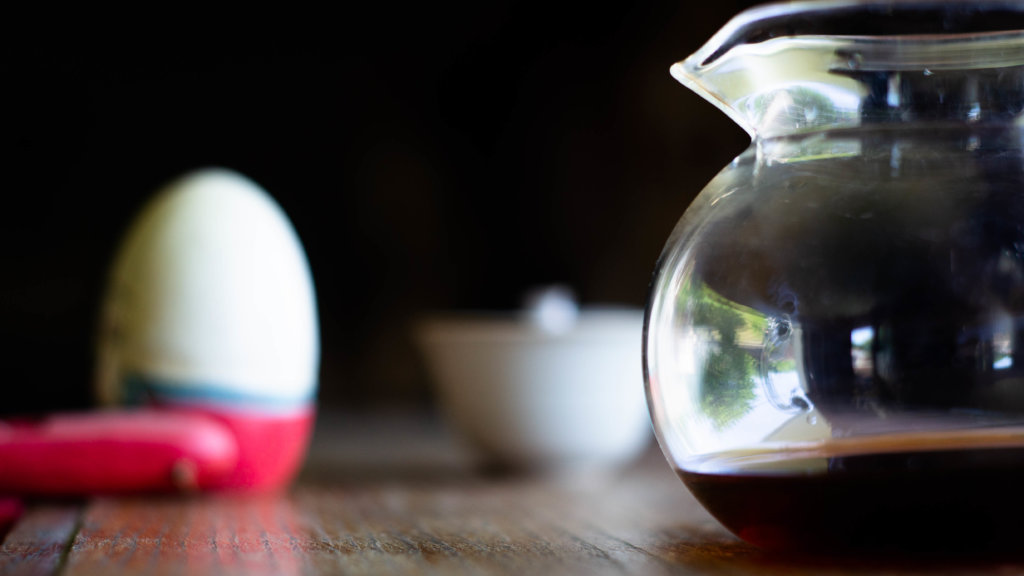 Infusions 7-14
Bitterness begins to fade at the seventh infusion and is gone by the ninth. Through these three infusions I occasionally will taste a new fruity note, but they come and go so fast that they are hard to identify. The ninth infusion sees a drastic drop in taste and there is another drop at the tenth, followed by a slow fade out for four remaining infusions. These last four infusions are marked by increased sweetness and more of the forest flavours of damp wood and moss.
Final thoughts
Crimson Lotus Tea's Lao Ban Zhang gushu shou was more of a challenging tea for me that wasn't always the most pleasant, but you are rewarded for sticking through. The tea goes through many twists and turns so you never know what is going to come next. As you hold the liquor in your mouth it changes from one thing to another, with a complexity that I haven't seen in another shou. Because this is a more difficult tea, it's one that (if I had a larger supply) I wouldn't reach for often, but it's so unique that I feel lucky to have had the chance to try it. Like the Yiwu shou, I'll be saving the rest of my sample to share with somebody when the time is right.