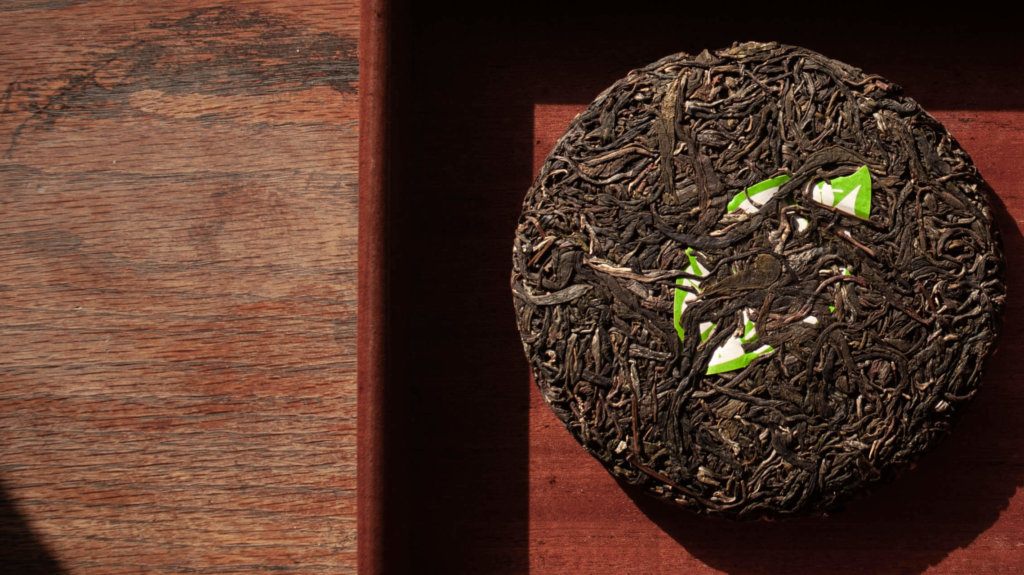 Bitterleaf Tea's 2019 Pretty, Pretty, Pretty Good is a tea that's made from Lincang tea leaves that are supposed to be similar to Xigui material. To quote Bitterleaf, this tea "is definitely not Xigui, but still Pretty, Pretty, Pretty Good." A while ago I decided I wanted to purchase a fresh puerh cake and do monthly updates on it throughout the first year of it's life (see this post for details), so, when I was looking through Bitterleaf's new 2019 teas this description caught my eye. This is the first look at this tea and you can check back in every month for the next year and see how it is coming along. If at the end of a year this tea has settled down I'll move to much less frequent updates, but if it is still changing rapidly I'll continue with monthly testings and report back.
As I have mentioned in my last "early look" post, I really want to stress that this is not a "review," as it's much too early for me to judge this tea. This cake is made from tea leaves that were picked before April 3rd and it was pressed May 2nd, so it is almost as fresh as you can get it. On top of this, it spent eighteen days in transit and only had four days to rest before I got into it. So this early look should be considered a snapshot of where the tea is at this exact point in time – drank under less than ideal situations, and not how it is intended to be consumed. The objective is to document the changes over time and not judge it for where it is right now.
Breaking the cake
The dry leaves of Pretty, Pretty, Pretty good have a light aroma but it's not unpleasant. There is earthiness, some fruity and floral notes, and a slight grassy note, but it's overall muted. The cake seems to be loosely compressed and it's dry and crumbly. Getting off a good chunk was difficult without breaking off a bunch of loose leaves. After a rinse the leaves retain their grassy scent, but move to a brighter, fruitier aroma that has a clear cherry note.
For this session I am using 3.8 grams of leaves in my 55ml gaiwan, 90°C water, and infusions starting at 5 seconds and increasing by 5 each steeping.
Infusions 1-3
From the very first sip I am taken aback by how thick and syrupy this tea is. It's not the thickest tea I have ever tried, but it's probably the thickest I've had right off the hop. Like the smell, the taste starts out nice, but light. It's medicinal with a brown sugar sweetness and a fruitiness that lines up with the cherry smell I got from the wet leaves. Each infusion gets deeper in taste and the cherry flavour gets stronger and stronger. Astringency grows through the first couple infusions, then at the third I get a sudden bitter hit that comes out of nowhere. The aftertaste is powerful but short lived.
Infusions 4-6
The bitter bomb from the third infusion seems to have been a one off, as there is no more bitterness through the middle section. The astringency however, is through the roof. I don't really mind astringency but even for me this is getting pretty intense. The medicinal note has moved back and the fruity taste gets bigger and juicier. I start getting a damp oak, woody flavour and a touch of fresh grass. On occasion I take a sip that is more on the floral side, but this isn't a consistent note. As for the mouthfeel, it continues to get thicker each infusion.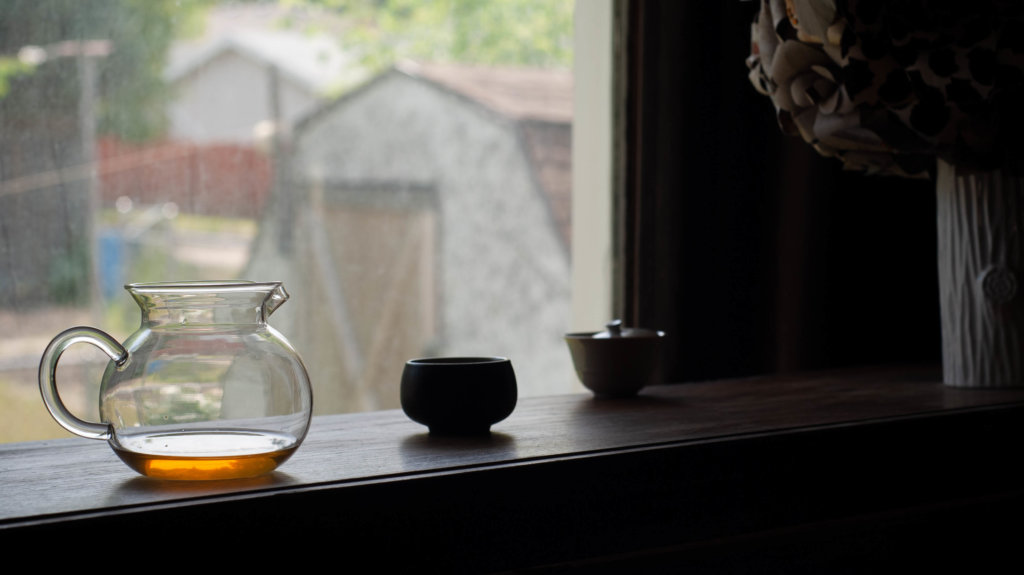 Infusions 7-12
Astringency has thankfully peaked at the seventh infusion and quickly declines. From the eighth infusion on this tea is easy drinking and smooth. The tail end of this session is marked by increased sweetness and oak flavour as frutiness fades out. Around the eighth infusion I see a huge increase in the aftertaste. It's still not the longest of aftertastes, but it has a returning sweetness that slowly turns to spice. Flavour quickly declines from the tenth infusion and is done at the twelfth.
Final Thoughts
With all things considered, I am really impressed with Pretty, Pretty, Pretty Good. Being so fresh and not letting the cake rest from shipping I was expecting to be completely underwhelmed, but outside of the astringent midsection this is totally drinkable. I'm very much looking forward to checking back in on this in a month and seeing how it tastes then!