Zheng Si Long's 2017 Man Zhuan puerh is made out of spring gushu material from Man Zhuan. While I was looking through all the Zheng Si Long offerings on Tea Encounter's website, the description for this one caught my eye. It should be " thick, smooth, having a strong fragrance, a long lasting sweet aftertaste and no bitterness… with pineapple/passion fruit undertones." Pineapple and passion fruit are not what I would classify as "normal sheng" tastes, so this was something I wanted to pick up and try out for myself.
Disclaimer – this tea came to me as a free sample from Tea Encounter.
Initial Impressions
Nothing about the initial scent from this tea is out of the ordinary, but it's powerful. Both the dry leaves in the sample pack as well as the rinsed leaves are extremely pungent and fruity. Like the last Zheng Si Long puerh I tried, this seems to have a fairly tight compression.
For this tasting I am using 3.8 grams of tea in my 55ml gaiwan, 90°C water, and after a rinse I'm starting my session with a five second infusion and increase by five each steeping.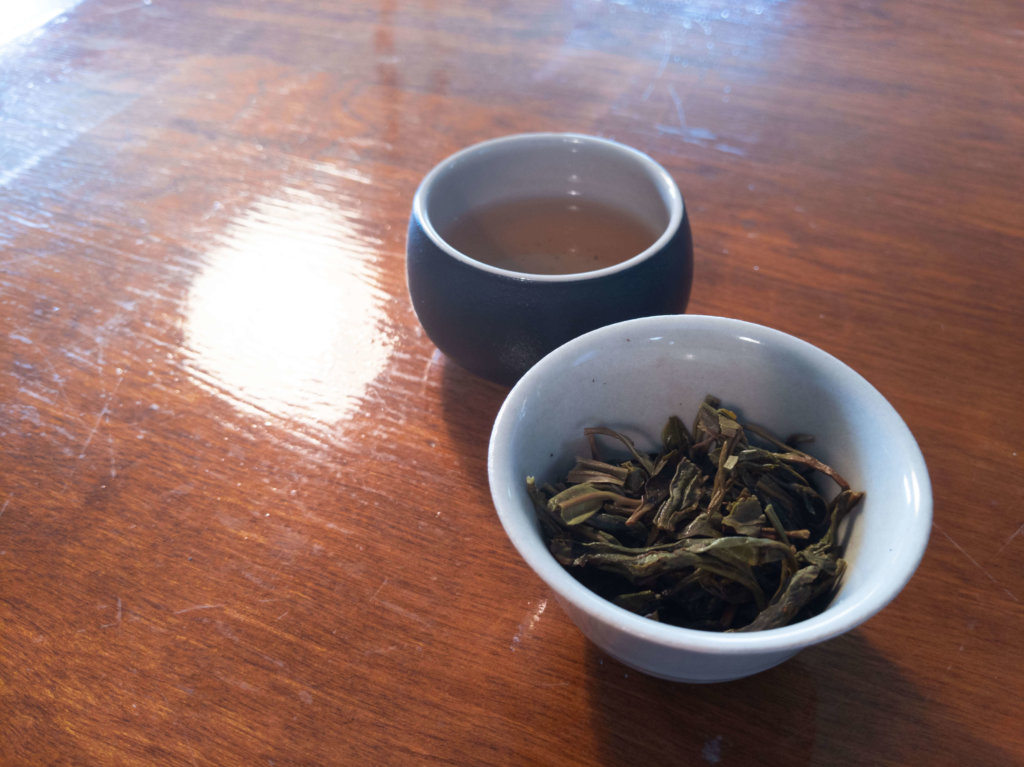 Infusions 1-3
The tea starts out light and fruity tasting with a darker spice undertone. This spice note quickly takes over and by the third infusion it's hands down the spiciest tea I have ever drank. Clove and pepper are the main notes, and there is a touch of smoke bite. There is still a faint fruity note, but it's not the usual sheng fruity taste. It's bright and crisp and balances out the lower notes well. Both the body and aftertaste are pleasant but not overly remarkable.
Infusions 4-6
At the fourth infusion the spice taste suddenly drops out of the foreground and moves entirely to the aftertaste. The aftertaste was short lived and nondescript earlier, but now with the new spice taste there it grows and grows to ridiculous levels. The up front taste becomes sweeter and fruiter now and takes on a more standard apricot and plum sheng flavour, still with the higher note. I still can't put my finger on what this brighter fruit note is – I wouldn't say that it's pineapple or passion fruit like Tea Encounter said in the description, but it's attention grabbing and has me trying to figure it out.
Infusions 7-16
At the tenth infusion, Zheng Si Long's 2017 Man Zhuan begins to fade slowly and gracefully, and this continued until the sixteenth. During the tail end of the session, most of the flavours drop off and all that remains is the brighter fruit taste. I've enjoyed this tea and wanted to extend it a bit so I gave it a full boil and intended to go for a longer infusion time, but got distracted and forgot about it for a solid ten minutes. This made for a pretty horrid drink and sucked the last bit of life out of the leaves. I feel like if I hadn't done this I still may have been able to get one or two final good steepings out of the tea, but unfortunately this is where my session ended.
Final thoughts
With the current exchange rate, a 200 gram cake of this puerh goes for about $95 Canadian. This makes it one of the more "budget friendly" Zheng Si Long cakes, but in my opinion still too high to recommend blindly pick up without trying first. Tea Encounter offers samples of it though, so if you're interested you can give it a try before diving in. For my personal tastes, I can't see myself craving this flavour profile often, but it tastes so far removed from anything else in my pumidor that I wouldn't mind picking up a cake and breaking into when the mood strikes.