Jingmai LOVE from Crimson Lotus Teas is an affordable blended cake that Crimson Lotus says captures the Jingmai essence. They describe this as having decent depth and body, strong honey aroma and floral taste. I haven't tried enough teas from each region to accurately distinguish the qualities that each region is known for, but I have come to really enjoy pretty much every Jingmai tea I have tried.
This 2016 cake sold out a few months ago, but they have just released their 2018 pressing. I have a sample of the new cake resting from shipping right now so I wanted to try this one now so that it's fresh in my memory when I get to the newer cake. Glen at Crimson Lotus believes that these puerhs should age similarly, so how the 2016 version is now should be a good indication of how the 2018 one will be in a couple of years.
On a side note, Crimson Lotus has a video on their YouTube page about how puerh is made in Jingmai, and I'd recommend giving it a watch. I asked Glen if the people in the video make any cakes offered from Crimson Lotus currently and he said that they help out in one way or another with pretty much every Jingmai cake. So if you have any Jingmai teas from Crimson Lotus this will give you a bit of an inside view into what goes into making your tea.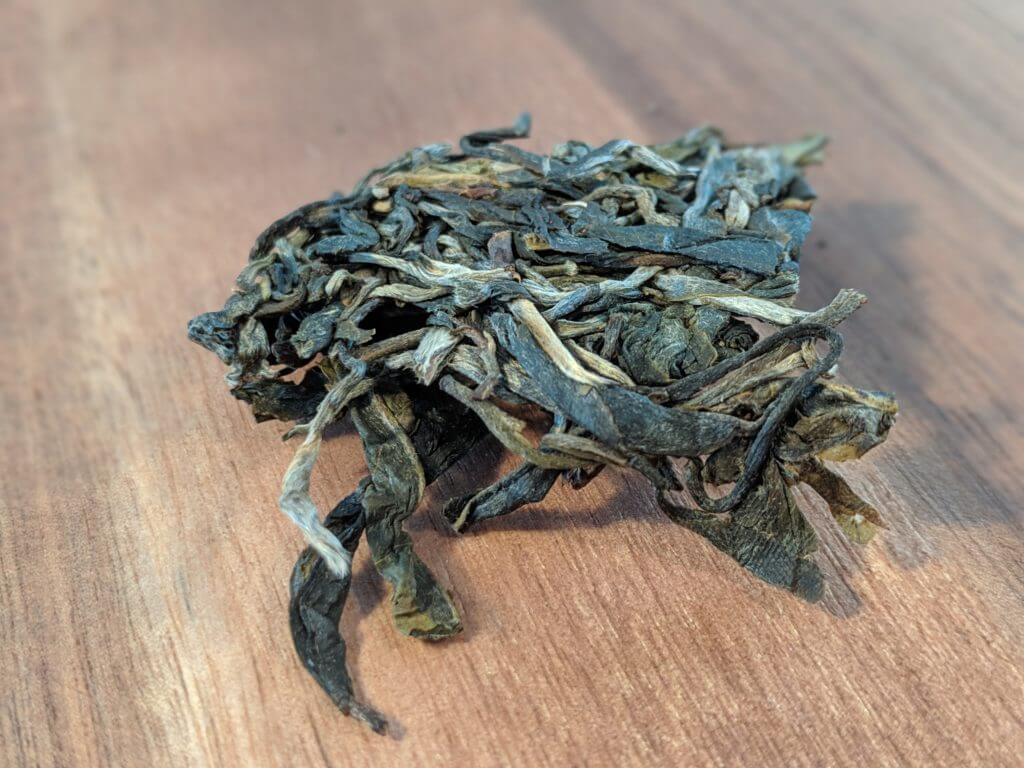 Breaking the cake
Like all the Crimson Lotus puerhs I have, this one has a nice light to medium compression. The dry leaves don't have much of an aroma but they smell sweet, fruity and theres a little dry hay aroma. The wet leaves lose the hay scent and is all beautiful smelling darker fruits – plums, apricots and raisins. I am over-leafing a bit because I got a nice looking chunk off the cake and didn't want to break it up, so I am using 4.35 grams in my 55ml gaiwan at 90°C. After a quick rinse I am starting with a five second infusion and increasing by five seconds each time.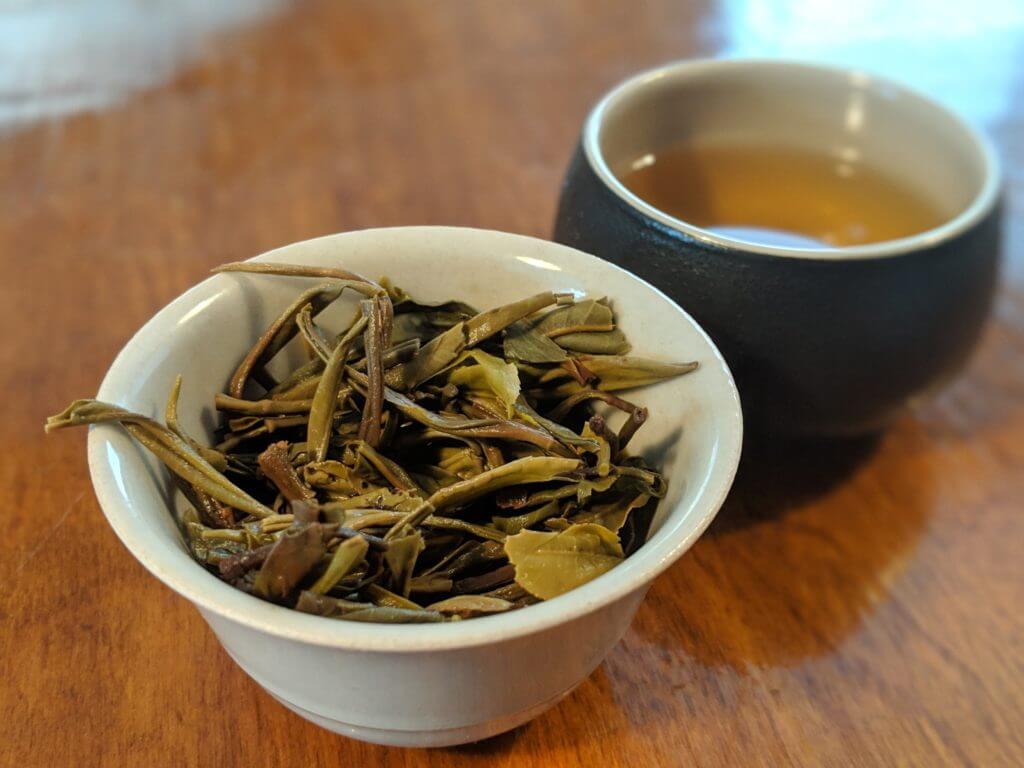 Infusions 1-4
There doesn't seem to be much of a build up period with this tea. Right off the first infusion it's full of flavour with a surprisingly thick mouthfeel. Up front it's grassy, woody and a bit floral. There is a good clove like spice kick on the back end that I really enjoy. The aftertaste is long lived but faint, mostly being a honey sweetness with a lasting astringency. If you hold the liquor in your mouth as you drink a bitterness slowly builds and it becomes very astringent, but you don't notice the bitterness with regular sips. My little chunk had completely broken up after the second infusion.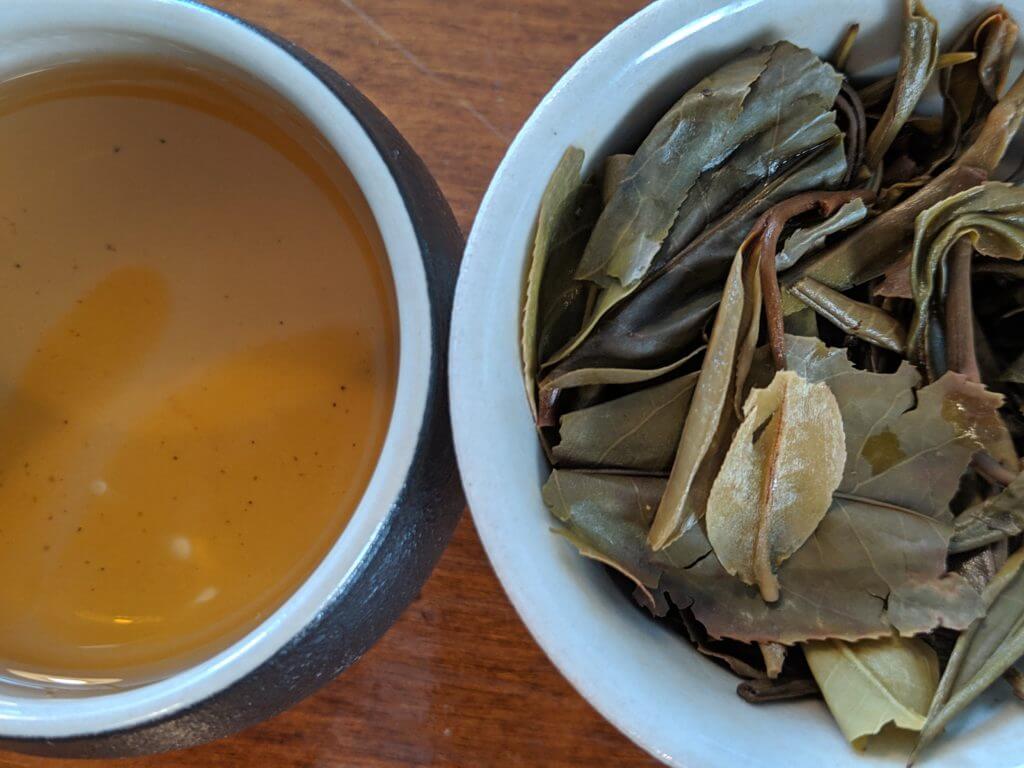 Infusions 5-8
The floral qualities are definitely increasing and the spice is fading. A new honeydew flavour slowly begins to creep in beginning at the fifth infusion and is right in your face a couple more later. Generally speaking, the tea is still pretty sweet but I get the occasional infusion that is mouth-puckering-ly bitter. This could partially be due to my high leaf to water ratio, but I have noticed an increasing bitterness in past sessions with this tea.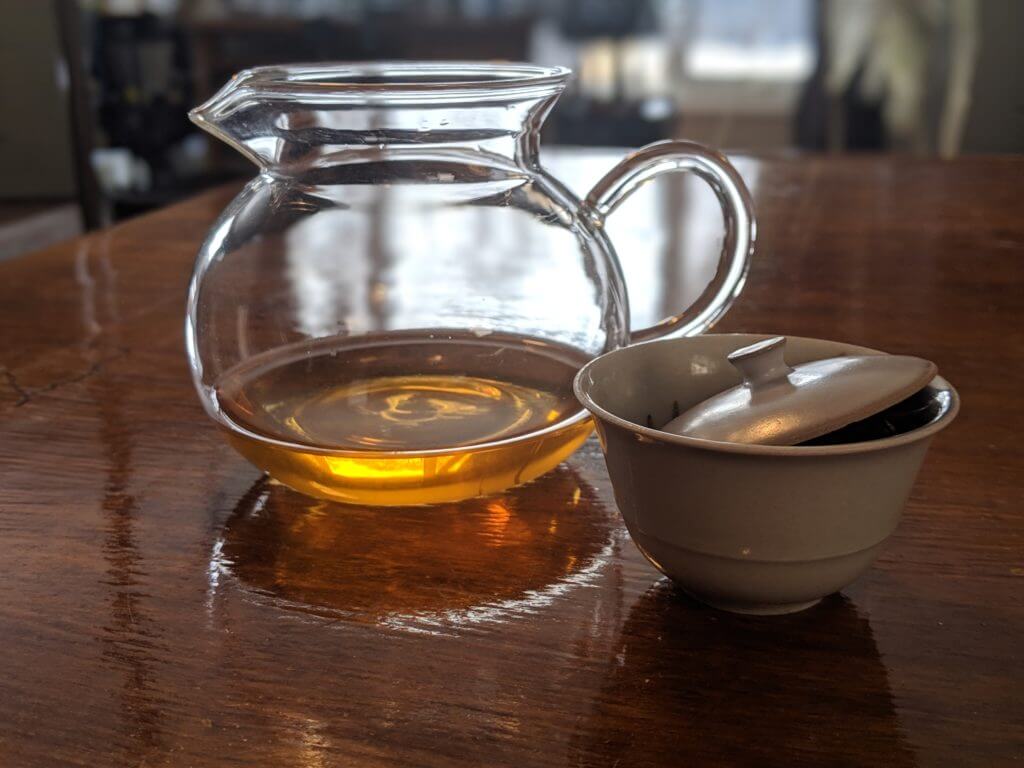 Infusions 9-11+
The tea still has lots of flavour, but pretty much everything is fading away outside of the floral notes and a dry earthiness. The melon flavour that showed up mid session is still around but you have to look for it. Outside of the rare super bitter infusion, the tea remains pretty sweet throughout the session. Flavour started dropping off at the eleventh infusion and you could probably call it quits around there but I pushed it with a few super long infusions. This is really just dragging out the session though, there wasn't too much going on here.
Final thoughts
As I said earlier, this tea is no longer available but should be a good approximation of what the newer pressing will turn into with a bit of age. I'll be doing yearly updates on this cake but I really like where it's currently sitting, with just under three years of age. It's a little bit simple but has a great taste that I think it's a great value for what Crimson Lotus is charging.