Oh hey there! Long time no see! It feels a bit weird just jumping right into a brand new review after six months of silence, but I don't want to take up space here, so I'll address that at a later date. Long story short, life has been a bit crazy for me, as I'm sure it has been for almost everyone reading this. I haven't picked up almost any 2020 teas this year, but Bitterleaf sent me a lovely gift a while back and I've been meaning to get into it for some time now. They are currently having their anniversary sale, so this felt like a good time to get off my butt, back onto my butt in a different part of the house, and drink some tea. Today I am drinking their 2020 Nanmo Resistance raw puerh. The reason I chose this one for my review today is because based on their description, it should be an accessible sheng. Easy going, full floral floral flavour, with a lower mid-range price, so if you're new to to puerh and want to grab something during the sale this sounds like it could be a good choice. But let's see how it performs!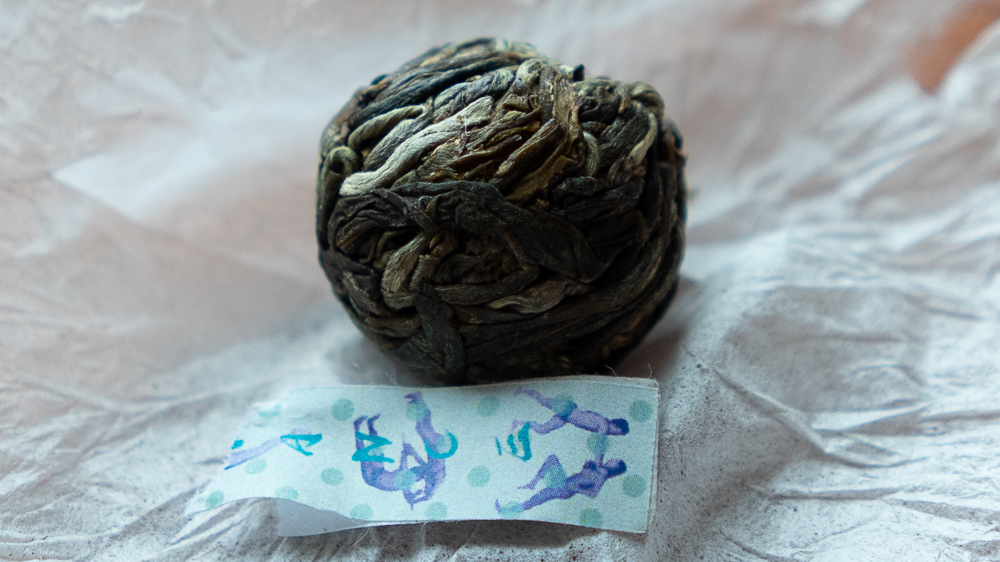 Initial Impressions
The dragon ball looks to be on the looser side, which is nice. I like dragon balls, but I know some people don't like that it can take a while to get to the meat of the tea. The dry leaves have a light earth scent which after a rinse transforms into big florals with a light sweet fruitiness.
For this session I am using one 7 gram ball in my 120ml-ish gaiwan, 90C water, with a ten second infusion followed by five minutes or so of letting the ball sit in my gaiwan with the lid closed. After the rest I start out with a ten second infusion and increase by five seconds each additional steeping.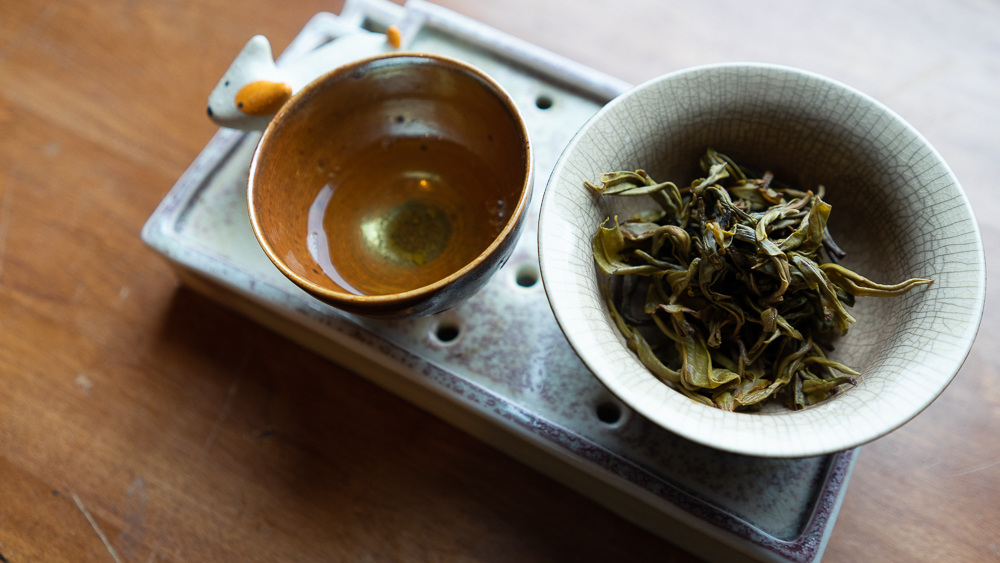 Infusions 1-3
Infusion one lines up with the wet leaf smell. There is an intense white sugar sweetness, followed by a rush of florals. On the back end I get a bit of a medicinal herby-ness that fades quickly and turns to sweet again in the aftertaste. The overall taste is light and watery for this first infusion, but I'm surprised at how much is going on and can be picked out. Infusion two is still light, but sees the herb flavour take over and it leaves a heavy thickness on your tongue. Saliva production is intense but not through the roof. On my second cup as the liquor cools I get more of a tree flavour – it tastes a bit like fresh bark smells. For the third steeping the ball is still sticking together but it's looking just about ready to fully open and the liquor is taking on a nice deep golden colour. The flavour is suddenly big and full, and it's like a big warm blanket for your mouth. There is a very quick bite to awaken the senses that quickly is replaced by sweetness, trees and flowers. The tea feels like it's really hit its stride here. The taste is simple but rich, aftertaste is long and mouthfeel is striking.
Infusions 4-9
I generally keep my first and second groups of steepings to three infusions each, but I'm putting infusions four through nine all into one section for this tea. There is a bit of variation as things move forward and back, but the heart of the tea remains steady enough to call this all the mid-section. During the middle steeps Resistance shows its teeth. It feels like you're having an argument with a friend, you've stepped out of line and they are putting you back in your place. They are being firm with you, but you know it's coming from a loving place and was probably necessary and while things currently feel tense, you know that things are going to end up fine in the end. Was that analogy a bit too out there for a tea review? Alright, to make things maybe more concrete, this mid section has a high level of astringency and a crab apple like taste and sourness. It remains floral but somehow presents it in an aggressive way. After I swallow my tongue feels almost numb and if I press it to the roof of my mouth it feels like I bit into a heavily mentholed stick of gum. Despite this, I don't think Resistance is off putting at all. It is intense but still familiar and easy. Other new notes that poke through here are straw, hay, pepper and lemon.
Infusions 10-16
The tenth steeping is where things take a turn again and Resistance returns more to the taste from the beginning. Warm, well balanced, sweet, and back to a very up front floral taste. The tea has peaked and slowly winds down, losing power each infusion until I stop at sixteen. The fade out is gradual and graceful, there is never a abrupt drop off and no new notes come into play.
Final Thoughts
I chose this tea thinking it would probably be a solid recommendation for people new to sheng puerh but I don't think I was necessarily right. I don't mean that in a "you need to be an experienced drinker to enjoy this" way, but more that the mid section is a big hectic so if you don't know that you like this type of drink, you're better off trying a small sample before blindly buying a cake. You could probably tame it a bit by altering the brewing parameters but for me the tea was perfect as is and I wouldn't change a thing for my next session. If you're looking at the sale right now and want something easier I'd steer you towards something like Plum Beauty, or the Year of the ___ series, but if you want to step out of your comfort zone and try something with a potentially higher risk:reward ratio, a few Resistance dragon balls would be a great buy.