Crimson Lotus Tea's 2018 Daydream is a multi-year blend raw puerh that I've been wanting to try for a while now. I was chatting with Nicole from Tea For Me Please maybe six months ago and she seemed to be really excited about this tea, so I made a mental note to try it ASAP… then promptly got distracted by all the shiny new 2019 teas. I was reminded of it recently while reorganizing my pumidor, so I'm happy to finally be getting to it!
Initial Impressions
The dry leaves have an interesting aroma, that manages to be both soft and sweet but sharp at the same time. It's a pretty powerful smell that oddly gets more subdued after a rinse instead of becoming stronger. The aroma changes after a rinse as well and goes to a fruity place, with notes of cherry and orange.
For this session I am using 3.8 grams of tea in my 55ml gaiwan, 90C water, and infusion times starting at five seconds and increasing by five each additional steeping.
Infusions 1-3
At the first sip I already know that this tea will be up there with my other favourite Crimson Lotus productions. It has that quality that I think they do so well, where there is subtle depth and lots going on without having anything bang you over the head. The first infusion has notes of purple and black fruit, seaweed and dark honey. The honey flavour is the most up front, but everything is very well blended. Infusion two sees a switch to brighter tones – still vegetable but more hay than seaweed. Still sweet and fruity, but more cherries than plums. Infusion three is a mix of the first two, with a brighter berry and fruit taste but darker spinach and seaweed. The body is pleasant but not over the top, and the aftertaste is the same. Nice sweetness that hangs around for a while, but nothing to write home about.
Infusions 4-6
Astringency starts to take hold during the fourth infusion, and the top end begins to push up to the point where it feels like you'll get a bitter bomb, but it doesn't actually show up. I'm not sure how something can feel like it's going to be bitter without tasting like it, but I don't know how else to describe it. The tea seems to be settling into itself now and the fifth and sixth steepings are fairly similar with only an increase of power from one to the next. These two infusions are smoothing out in terms of astringency, and are largely sweet and spinach-y with berry notes behind. Still, there feels like there is more going on that I'm not picking up on. The hidden depth is still going strong here, and to say that there are only the two notes would be doing it a disservice.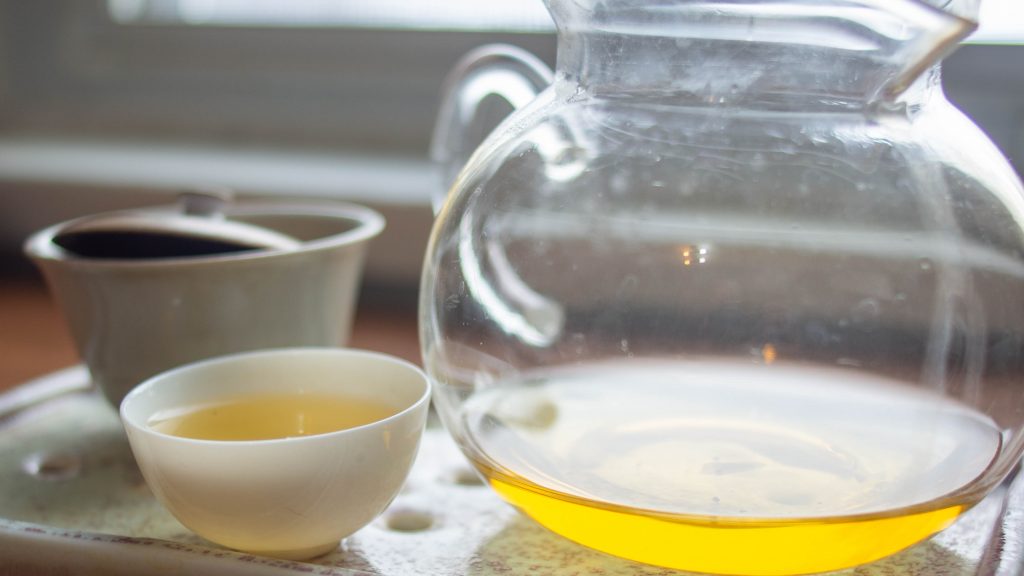 Infusions 7-12+
The astringency has all but left by the time the seventh steeping rolls around, and I see a decline in vegetal notes which totally fade by the ninth infusion. The tea has more to give though, and a heavy fruitiness fills the void. Flavour starts to decline at the tenth infusion and slowly fades out. Due to time constraints I had to end my session at the twelfth steeping, but I would think that Daydream could be pushed for more yet.
Final Thoughts
2018 Daydream is a combination of everything I like from a Crimson Lotus sheng. At least for part of the session it keeps you on your toes, changing from sip to sip and infusion to infusion, it has a slight bite but never is harsh, it has depth to it with some layers being apparent and others being a vague feeling, and it comes in at a bangin price of $55 USD for a 200 gram cake. This tea performed great at my standard ratio, but I have a feeling it would really shine with a heavy leafing. This is absolutely a sheng that I'll be picking up a cake of in the near future, so you can expect some more updates down the line!