Yuanjiutang's 2003 Ban Zhang is a sheng puerh made from material that's… well… probably not from Ban Zhang. This tea came to me from Tea Encounter, and on their site they make it clear that they themselves are not verifying or even claiming what the origin of these tea leaves are, and the Ban Zhang claim comes from the factory. So, origin claims aside, Tea Encounter is selling this tea purely based on the merits of it's taste and quality.
Disclaimer – this tea was provided to me as a free sample from Tea Encounter.
Initial Impressions
The dry leaves tightly compressed and have a strong smell of caramel and sticky rice. After a quick rinse, the wet leaves initially have a deep, woody scent but as they leaves cool take on a brighter aroma. It's fruity and almost boozy smelling, like apricots soaked in gin. It's not quite "fill the room" strength, but the scent is large and full.
For this session I am using 3.9 grams of tea in my 55ml gaiwan, 100C water, and infusion times starting at five seconds and increasing by five each steeping.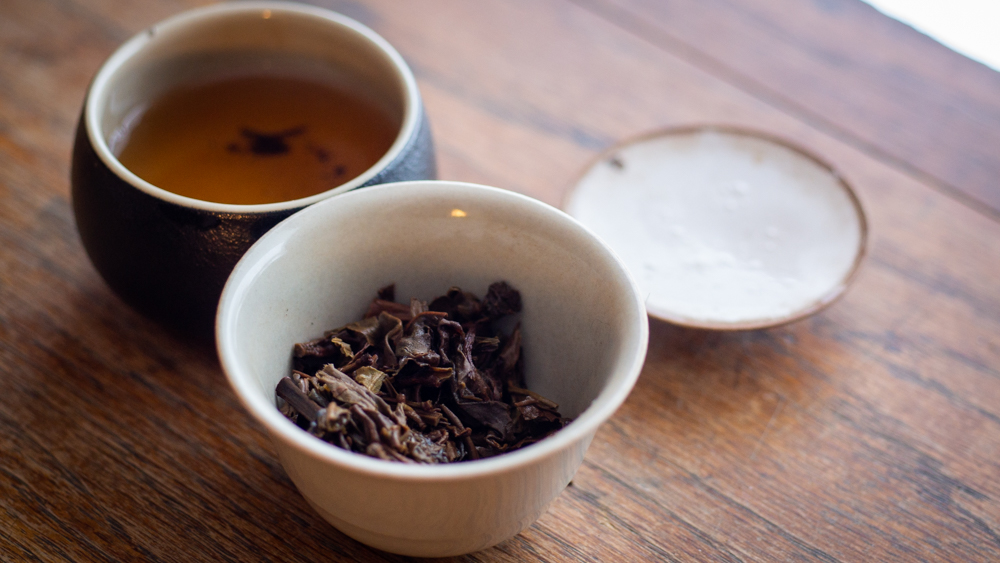 Infusions 1-3
There isn't much taste to the first infusion, but there is something there that makes me go "Oh, that's nice!" It's nothing I can pick out, just a faint pleasing taste. The second steeping gets a little bit of the sticky rice taste that lines up with the earlier scent. It's a little bit fruity and a bit earthy as well. Infusion three gains sweetness and increased fruitiness, with a nice astringency. I can't quite put my finger on it, but there is something very black tea-like about this puerh.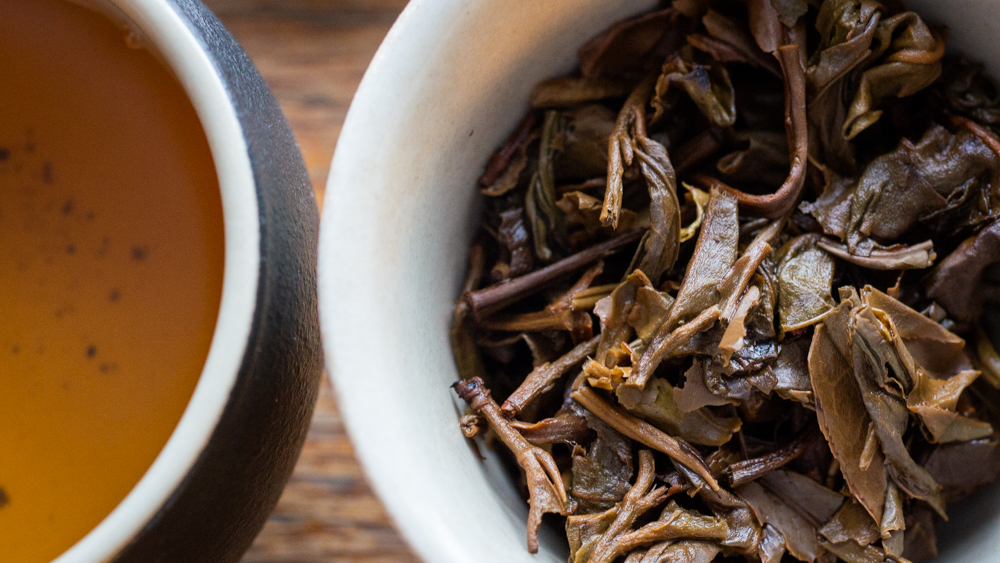 Infusions 4-6
Steepings four and five are very black tea-ish now, it's bizarre. Mouthfeel is fantastic and I am getting strong caramel noes on top of a vague fruitiness and fresh grass. Infusion six sees the introduction of a tobacco note that comes on strong and takes over everything else, and a little bit of pear pokes through at the top end. This tea has a notable lack of aftertaste, it's not there at all. Pretty well the moment you swallow the liquor it's gone.
Infusion 7-15
Woodiness returns for infusions seven through nine and sweetness comes out in full force. The flavour seems to reach it's peak around the ninth infusion and holds it until the twelfth before beginning to show any sign of thinning out. In terms of taste, not much, if anything, changes between the seventh and twelfth infusion. The taste is huge but there are no layers here, just sweetness and damp wood. Once the tea starts to drop off it goes back to a fruitier place and I see a return of the caramel note. By the fifteenth steeping the tea has given all it's going to and I end the session.
Final Thoughts
Yuanjiutang's 2003 Ban Zhang is a tea with a bunch of pros and cons. For most of the session the flavour isn't all that interesting or exciting, but it does it's thing very well. Mouthfeel is great, but the aftertaste leaves a whole lot to be desired. The black tea-like mid section is something that I could see being a divisive thing, but I liked it – it was unexpected and grabbed my attention. This tea works out to $0.46 CAD per gram and I think it absolutely performs well enough for that price, but I would definitely recommend sampling before caking this one to see if it suits you or not.