This months review of Bitterleaf Teas' 2019 Pretty, Pretty, Pretty Good is coming in a bit late because it has required a bit of investigating on my part. What do you do when a tea you've been loving for months suddenly tastes bland and boring? I've had some concerns about my storage for the last while, as some changes in my house and forced me to leave my pumidors on the second floor, which is significantly cooler than the main floor (about 15C for the last couple months). As this concern has already been in my head for a bit, my immediate thought was that temperature was the cause of a dull session, but I wanted to do a bit of research and see if I could draw any solid conclusions to add to my review. The rest of this post is as I wrote it last week, then at the end I'll add on my findings.
If you would like to read my past tasting notes on this tea, please click here.
Breaking the Cake
The cake has almost no aroma whatsoever, even getting my nose right into it there isn't much of a notable scent. After letting the leaves sit in my warmed gaiwan for a little bit they start to come alive, and more so after a rinse, but it still feels muted. I am getting notes of hard candy and some general floral scents with not much else going on.
For this session I am over leafing a bit more than normal, using 3.92 grams of tea in my 55ml gaiwan. Water temperature is 90C and infusion times are starting at five seconds and increasing by five each additional steeping.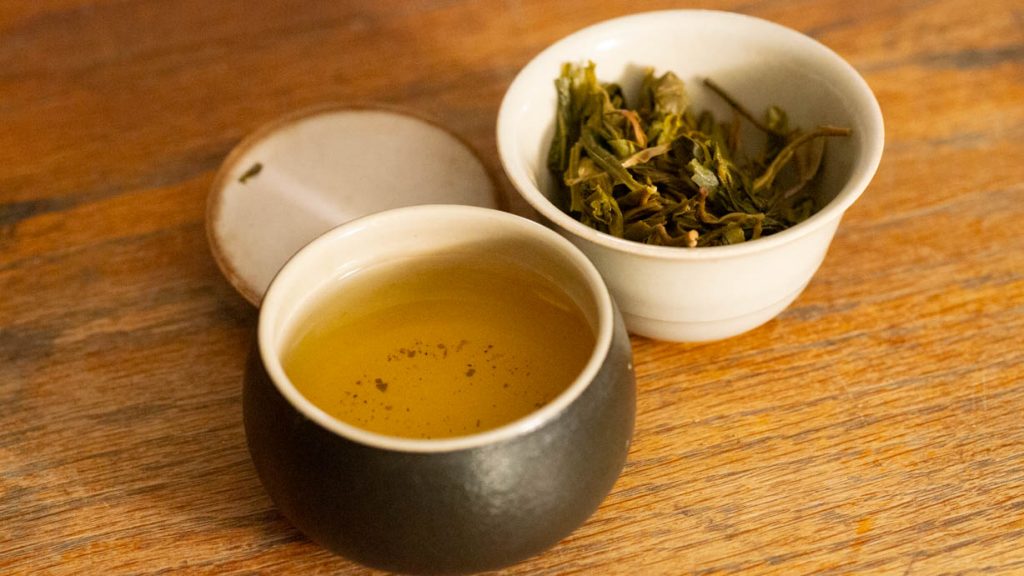 Infusions 1-3
The most up front note in the first infusion is one of sweet pear, with a light bitterness and astringency in the back ground. Infusion two gains a a little bit of spice and a bit more astringency. The texture is smooth and buttery with a medium thickness and sweet, faint aftertaste. The third infusion has an increase in the general midrange – more a feeling of presence than a taste. Overall flavour production is up a bit, but still meek. Pretty, Pretty, Pretty Good feels mild today. There isn't any negative or off notes, but it's pushing into bland territory.
Infusions 4-6
Infusion four picks up a little bit, with a slight woody and mineral taste. Still, I really have to search for things here, nothing is jumping out at me. Infusions five and six get a bit milkier in both flavour and feeling, and all highs and lows drop off leaving you with just a mid "oomph." The finish is almost non-existent. I get a wee little bitter hit for a split second that disappears by the time I finish swallowing.
Infusions 7-10
The seventh and eighth infusions are more dull than the last, and I think I probably could have ended my session at the sixth without missing anything. I wanted to see if I could pull out anything redeeming here, so I upped my water to a full boil and increased my infusion times to 70 seconds for infusion 9 and 90 seconds for infusion 10. This brought some new life into the tea and gave it a bit more kick but still was nowhere near where I thought it should be.
Final Thoughts
So – that wraps it up from my notes from last week. Pretty, Pretty, Pretty Good has become one of my favourite 2019 shengs over the last few months, so this session felt like a let down. If I didn't already have a history with this tea and was sampling as a one off it probably would have left a bad taste in my mouth, but I know it is much better than this so this left me a bit concerned. As I said above, I had a feeling that the root issue here was my cold storage, but before going into full blown storage panic mode I wanted to do some reading and talk to people more knowledgeable and experienced than myself.
My research came up more or less blank, cold storage isn't a topic I can find much about. Generally speaking you'll see people recommend hotter than cooler storage, but no discussion on what happens in cool storage seems to occur. So this brought me to chatting with some tea friends and Jonah from Bitterleaf. Most people I talked to felt that sheng puerh will go into a mini hibernation during the winter months and become more subdued for a while. A handful of these people also weren't sure if this was actually happening or if it was just in their heads, but seeing as they all noticed it, I'd lean towards it being a legit thing. Everyone also agreed that the tea will bounce back in spring and I shouldn't worry about any long term affects.
Jonah offered another opinion. He has noticed that puerhs do dull in the colder months, but also noted that this very well could simply be the ups and downs of a young puerh and probably not something I should be concerned about. These ups and downs are the reason I wanted to do these monthly reviews in the first place, but this puerh has been so steady that the thought left my mind.
So to summarize, my storage could be totally fine and this could just be an expected dip in the early life of a sheng. Or maybe I should expect everything to be muted until temperatures start to rise in May. Or maybe it's a combination of both. Currently, there's no real way to tell but long story short, I'm not going to worry about it. I will do another mini experiment though on this, so check back in the next month or two for more details and results on that!