Recently I had an online tea friend coming through town, so we decided to meet up and do a tea swap. As I was looking at their list of teas, I saw they had some Whispering Pines shou puerh – specifically, the loose leaf version of Ontario 1357. I have previously had a couple of teas from Whispering Pines and was very impressed with them, so I asked if they could bring along some of Ontario 1357 for our trade.
Initial Impressions
Upon opening up my sample pack I get a strong earthy aroma with a little bit of sweetness. After a quick rinse the leaves have an overpowering wet mushroom aroma.
For this session I am using 3.5 grams of tea in my 55ml gaiwan, 100C water, and infusions starting at 5 seconds and increasing by 5 seconds each steeping.
Infusions 1-3
Infusion one has a lot of top end, with a bitter bite and a strong fruitiness. The second infusion adds in a brown sugar-like sweetness and a note of something vaguely nutty. For the third infusion no new notes are added in, but the taste becomes more developed. So far this is a lighter tasting shou. It's full flavoured, but missing the deep woody shou tastes.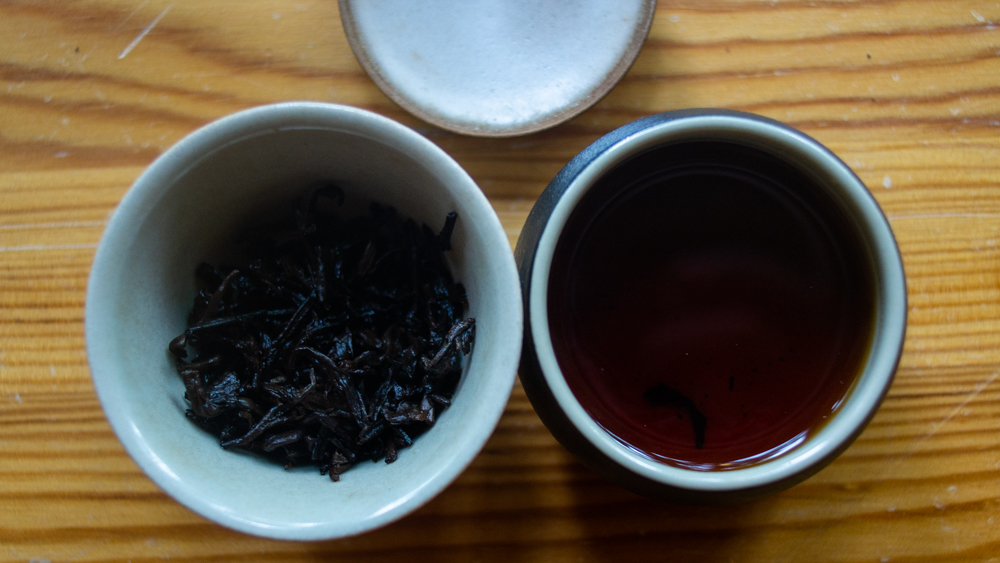 Infusions 4-6
The fourth infusion sees the tea move to a bit of a heavier place, with a new molasses note, and the colour is starting to become deeper. The aftertaste is strong but not too long lived – it hits you with a powerful sweetness that quickly fades out, leaving behind just a subtle vanilla flavour. The molasses note gets stronger through infusions five and six, but it retains its brighter tones and an all around light taste.
Infusions 7-10
Flavour has reached it's peak at the seventh infusion then faded out fairly rapidly. I ended the session with the tenth steeping. These last couple infusions became much earthier than it had been, with a strong mushroom and damp wood taste.
Final Thoughts
When it comes to shou I tend to gravitate more towards a more robust tea with deep, earthy flavours. As Ontario is on the more lightly fermented side it doesn't quite line up with my personal preferences, but I still think it's a good quality puerh, and I wouldn't have trouble recommending it to people who are into a lighter tasting tea.