Happy mothers day, everyone! Since I have been getting more and more into tea, my mum has been wanting me to bring over some tea to drink with her. She drinks tea daily but mostly blends and flavoured teas, like Twining's Lady Grey, Sleepy Time from Celestial Seasonings, and right now her favourite is Canada 150 from Murchie's in Victoria. My dad is out there visiting my brother right now and is bringing back a comically large bag of it for her. So I decided for mothers day I would bring over a tea and have her show up as a guest on the blog. As much as possible I'll be using direct quotes from her, but she talks faster than I type so it might be slightly off (sorry mum!)
I brought over a bunch of teas for her to give a smell of and see what she was interested in, and she decided on Yunnan Sourcing's Wild Tree Purple Moonlight. This is good for me – Purple Moonlight is one of my favourite teas. We are drinking the sold out spring 2018 harvest, but the 2019 one just was released so if you want to get it fresh I'd jump on it!
Initial Thoughts
Me: The dry leaves are fairly aromatic and have a beautiful smell. It's bright and floral, but they also have a dry earthiness to them. After a rinse the leaves transform to a mostly fruity sell, with apple, grape and pear being the main notes I can pick out.
Mum: [On the dry leaves] It all just smells so green to me, it just smells like green tea. There's something in there that reminds me of jasmine tea. *shrug* I have a cold in my nose!
Mum: [On the wet leaves after a rinse] Oh wow! It's fruity to me now! That's different….why did I say fruity? It's pear I think. Wow, that's a great smell.
As I said earlier, this is one of my favourite teas but it's been a while since I drank it last and I didn't have my notes handy so there was a bit of experimentation. We are using 7.3 grams of tea in a 130-ish ml gaiwan, starting at 85°C water for the first couple infusions but moving up to 95°C after. I gave the leaves a quick rinse then started with 5 and 10 second infusion, then jumped up to 25 and increased by 5 seconds for the remainder of the session. I told my mom that I would normally toss the rinse, but as this was first thing in the morning, we had both just brushed our teeth, so we drank the rinse to cleanse our palates.
Infusions 1-3
Me: The tea starts out much more floral than you would expect from the fruity smell of the wet leaves. The first infusion is pure floral taste and perfume-y smell to me. Pretty quickly through the second and third infusions it does move to the fruity side. Pear and apple are the main notes for me, then a strong muscatel taste comes in at the third infusion. It reminds me very much of a nice first flush darjeeling. The flavour is big and bold but the aftertaste is short and sweet. The sweetness is very much a white sugar sort of sweet. Astringency grows through these infusions but in my opinion it's pretty light. Everything is very bright and crisp.
Mum: [On infusion 1] I'm sticking with pear and jasmine. I really love the smell. [On infusion 2] Starting to get a bit dryer, is that tannins or…? Now we are getting a more full… *motions to her mouth*. [On infusion 3] It's just more drying out my tongue now. [I am typing quotes on my computer] Don't just quote me! [I tell her I will be using direct quotes] Well FINE! Then I'm gonna be cussin'!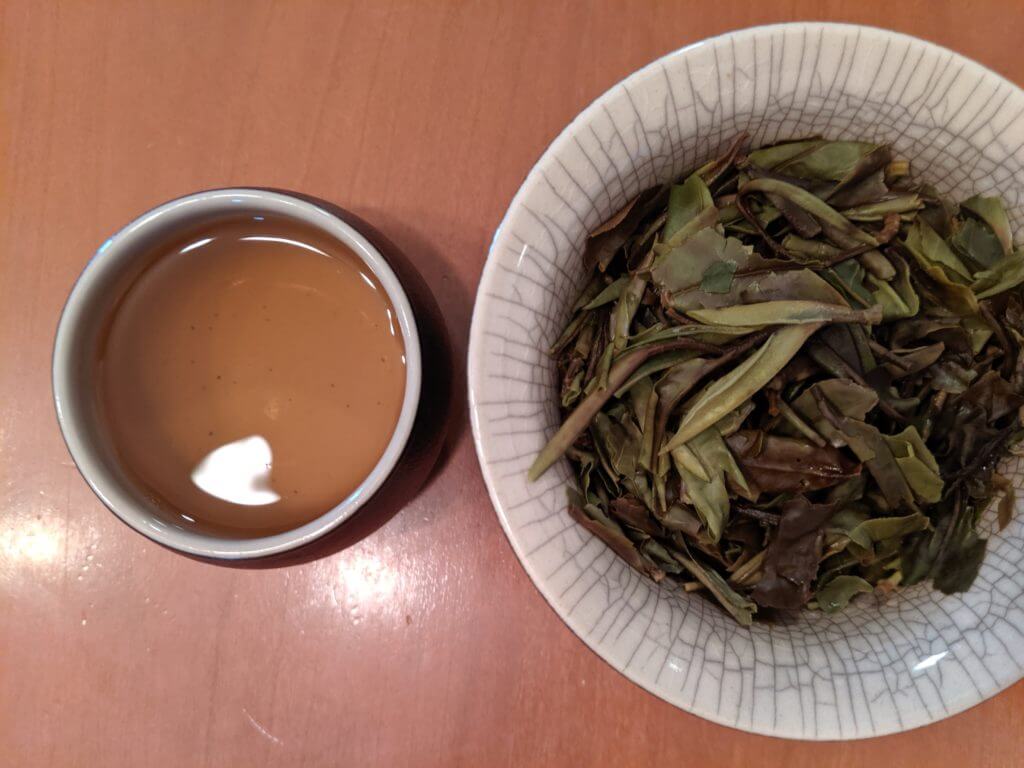 Infusions 4-6
Me: The high, crisp notes are softening and the tea gets earthier but it stays very fresh tasting. The muscatel note becomes strong and stronger as the tea gets deeper and more robust. While the front notes get darker and fruitier, the aftertaste gets brighter and more floral.
Mum: I actually do like weaker tea, I would have drank that first one. [She is referencing the rinse] But this is good. Four is a good place for me. It's good. It's balanced. I'm still getting that same kinda…green, floral, fruit, same sort of smell as at the beginning. Smell and taste are two different things though, eh? But this is very soft and easy drinking. I like this tea a lot, I'm glad we chose this… [She trails off and pauses] I almost had an idea there for a second…wait, don't write that down! [She pauses again] I was gonna go "plum!" then it fleeted away… and this is what every day is like for your mother! Stop! Stop writing this down! [She laughs] You're not allowed to do this to your mother! [more laughing] Damn these little cups, I need more! [laughs] Don't write that!
At this point, my mum remembered that she had some fruit salad in the fridge, so she wanted to taste some fruits and see if that would help her pick out what she was tasting. She confirmed that pear was the main fruit note from the tea. We also took the time to do a bit of tea learning, and I showed her some pages from Tea Epicure that explain the differences between tea types, skimmed through a Crimson Lotus video on puerh processing, and watched a short clip from White2Tea on how cakes are pressed.
Infusions 7-8
That photo was my mom's idea. I tried to get a nice picture of us with the tea but every time the counter got to '1' she would look away or start fixing her, or my, hair. She says "that's as good as it gets without makeup first thing in the morning!"
Me: This tea peaked at the sixth infusion then dropped off extremely quickly. These last two infusions are pretty weak but interestingly the flavour that is left has gone back to the bright floral taste from the first infusion. It's still smooth and sweet but the astringency has ramped up significantly.
Mum: My mouth is confused now. [I tell her I think the tea is pretty well done and ask if she has any new notes] No, I'm still getting over that fruit! When I drink other teas and they get too astringent I bail. It's like, why? Why can't they fix that?
Final notes:
I think this is a great tea and really recommend trying it out. It's a short lived session, but extremely powerful and full of flavour. I bought 25 grams of Purple Moonlight to try out a good while ago and have been spacing out my sessions with it because it was sold out and I didn't want my stash to disappear. Now that the 2019 harvest is out I'll be buying a larger bag. My mother also really enjoyed the tea and would recommend it as well. She was happy that we chose this one and doesn't think she would be into puerh, but I think I'll have to force her into a session of that in the future anyway.