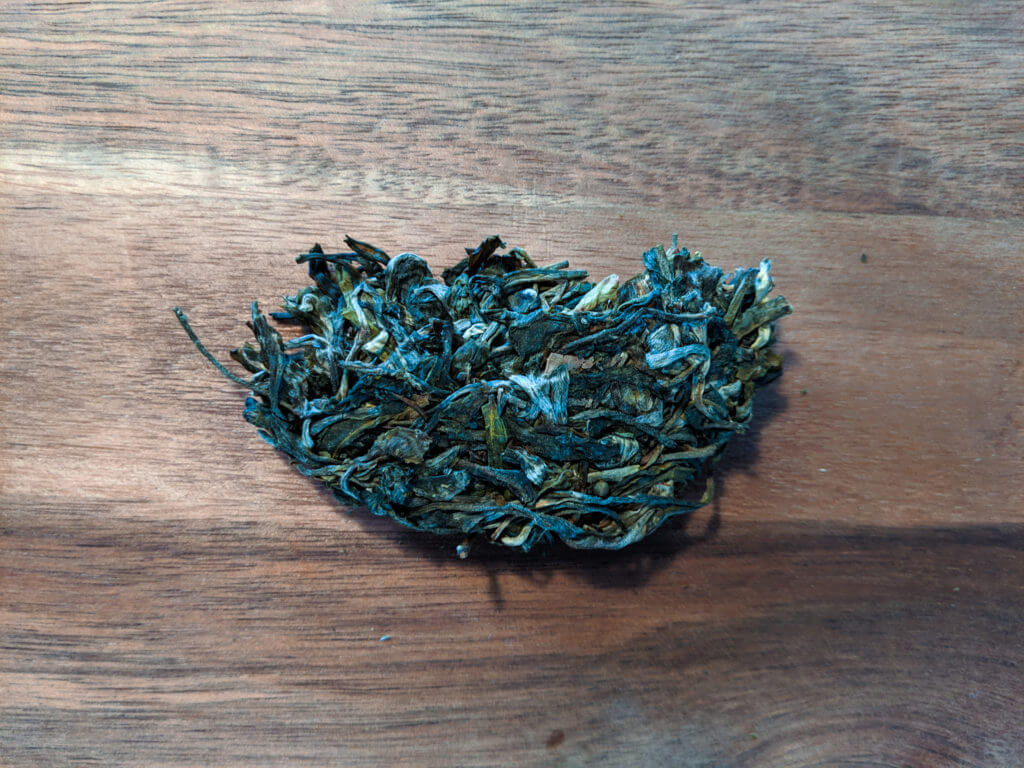 2018 Beneath an Emerald Sea from Crimson Lotus tea is a new pressing of a well liked 2016 cake. This puerh is supposed to have a pretty incredible stamina, a thick and creamy texture, and a nice balance of sweet and bitter. Like Crimson Lotus' 2018 Jingmai LOVE, this puerh was pressed in 2018 but was just released recently, so even though it's a brand new cake it already has a year of age on it.
Full disclosure before moving on – this was a free sample sent to me by Crimson Lotus Tea, but this isn't a paid review or ad. I'll be reviewing this tea just like I would any of my cakes that I've purchased.
Initial Impressions
Like other Crimson Lotus Tea pressings, this one seems to be a looser to medium pressed cake. The dry leaves aren't very aromatic but they have a bright and fruity smell and a lower tobacco note. After a rinse, the wet leaves have a very pleasant berry smell to them. These leaves aren't the most aromatic, as you have to get right up close to smell them, but I love what they are giving off.
For this session I am using 3.8 grams of tea in my 55ml gaiwan, 90°C water, and infusions starting at 5 seconds and increasing by 5 each time.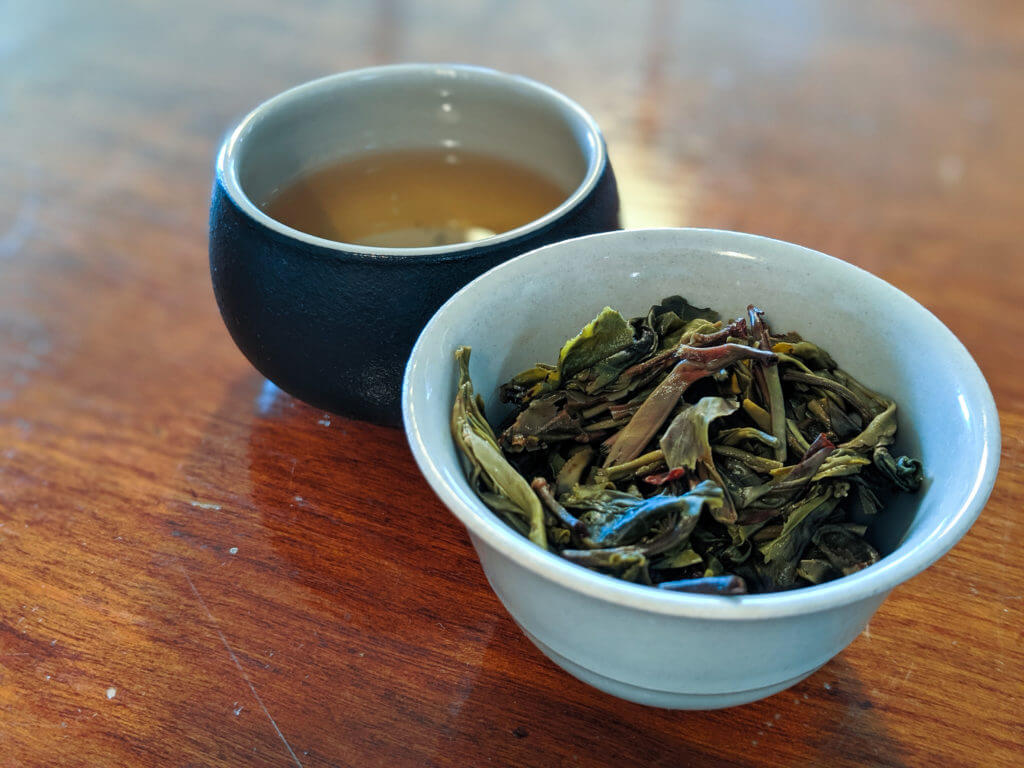 Infusions 1-4
I can see why Crimson Lotus leads with "thick and juicy" in the description, as that's the first thing you notice. The second and third infusions are wonderfully thick and make me think of a pulpy juice. There aren't really high notes in the taste, it sits comfortably in the middle of the taste spectrum. It's sweet and a little bit floral with a black pepper type of spice that kicks on the back side and a little bit of bitterness at the very end. I am definitely getting a berry taste somewhere in there, but am having a hard time putting my finger on it. I think the closest taste I can relate it to would be blackberry. So far there isn't too much of an aftertaste, it leaves you quickly with only a lingering astringency.
Infusions 5-8
This tea is giving me a bit of a hard time, as I'm finding it difficult to pick out and distinguish exact flavours. This can either be good or bad, as a tea can be complex and interesting or just boring and muddled. Beneath an Emerald Sea is the former. It's not the most complex tea on the market, but the flavours that you get aren't the same ones I've had in other puerhs and it leaves me scratching my head a bit. It's very fresh, clean and lively. There is something tomato-y about it but it's not a tomato taste. It's closer to the smell that your hands have after picking fresh tomatoes out of the garden. There is also some herb qualities in the same way – there is something in there that reminds me very much of both fresh mint and cilantro. The mint flavour is actually quite present and really shows up in the after taste, but the cilantro is more of a vague feeling, like the tomato and blackberry notes.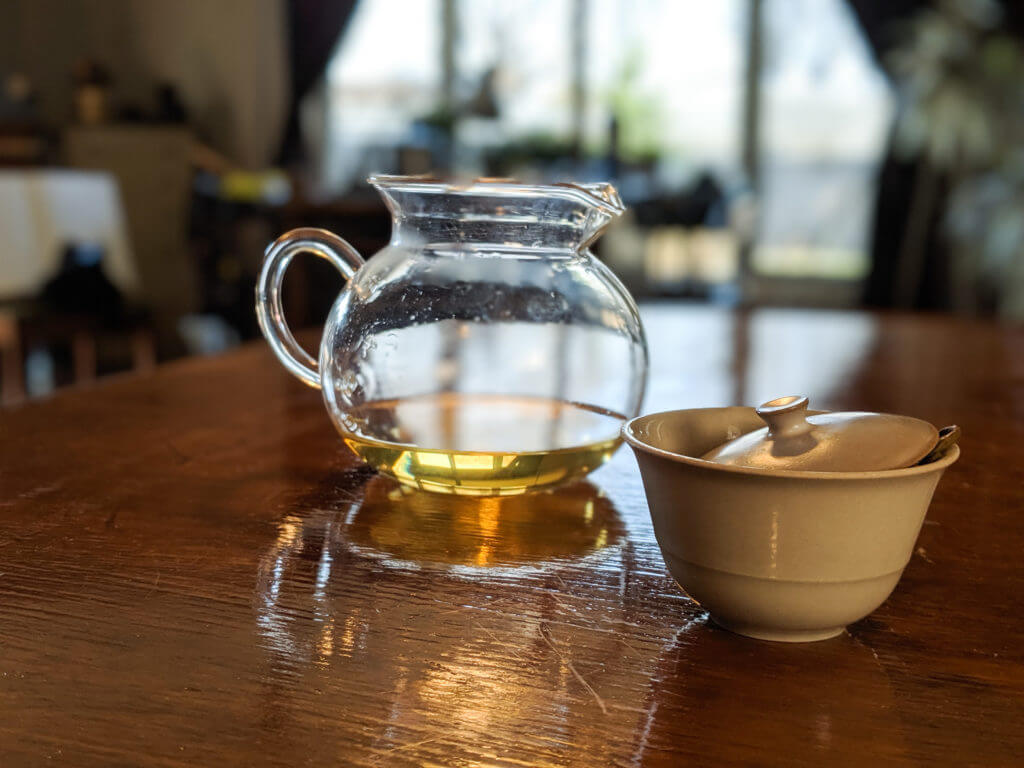 Infusions 9-15+
At the ninth infusion I begin to get an asparagus taste, and some increased astringency. The black peppery note has faded away so there is no real bite anymore, it's just a nice and smooth drink. Around the tenth infusion the tea takes a sudden turn and becomes quite mossy and earthy as all other notes fade away. This taste increases for two or three infusions, then flavour begins to drop off. It's a slow decline at first then becomes pretty rapid at the fifteenth infusion. I called it quits at the seventeenth infusion.
Final thoughts
Beneath an Emerald Sea is an interesting puerh that's unlike any others I own. Sweet berries mixed with a garden fresh herbaceous taste and a nice thick creaminess. I haven't tried the 2016 pressing of this cake so I don't have any insight to how it will age, but this is definitely a great drink at it's current stage and I would recommend trying it out.