White2Tea's Snoozefest is a limited run raw puerh that they have produced for their last couple of Black Friday sales. Only 100 cakes are pressed and they say that they would normally sell a cake of this quality for around $40, but as a Black Friday deal it goes for $15. No samples of this cake are made available and sells out fast which is where they get the name from – if you snooze, you lose*. Generally speaking, I don't see much of a point in reviewing limited edition cakes that you can't purchase any more, but these cakes sell out extremely fast and have received good reviews in the past. I think there is a good chance it will be re-pressed for 2019 so it's worth looking at to help decide if you should jump on it.
I last tried this tea in February and it fell a bit flat for me. I thought it was a great cake at the $15 mark, but if it was actually sold for $40+ then there are a handful of others I would prefer instead. However, Snoozefest was pressed in October, so it is still very fresh and will likely go through some fairly drastic changes so I'm definitely not writing it off. I will come back to this tea in early November to take a look at it again and post an updated review before the (potential) release of a 2019 pressing.
*Note: The explanation of this teas name comes from the wonderful MattCha's Blog in his review of this tea. I haven't seen it explained this way elsewhere, but I like it so I'm going with it.
Breaking the cake
There isn't much of an aroma off of the dry leaves, just a dry earthy smell, with a bit of seaweed and some herbal notes in the background. The tea really comes to life after a quick rinse, though. It doesn't quite fill the room but it's a surprisingly strong smell compared to the dry cake. The wet leaves have a deep peachy scent that seems to grow the longer I am letting it rest. The rinse itself is pretty earthy smelling and is almost getting into shou territory.
This cake is pretty heavily compressed and made me wish I had a knife instead of just a small pick. I ended up using my larger gaiwan because I broke off a nice looking chunk that was too big for my small one and I didn't want to snap it in half. I am using 9.5 grams in my 140ml gaiwan, with water at 90°C. Quick rinse and a bit of a wait, then I am starting with 5 second infusions and increasing by 5 each time.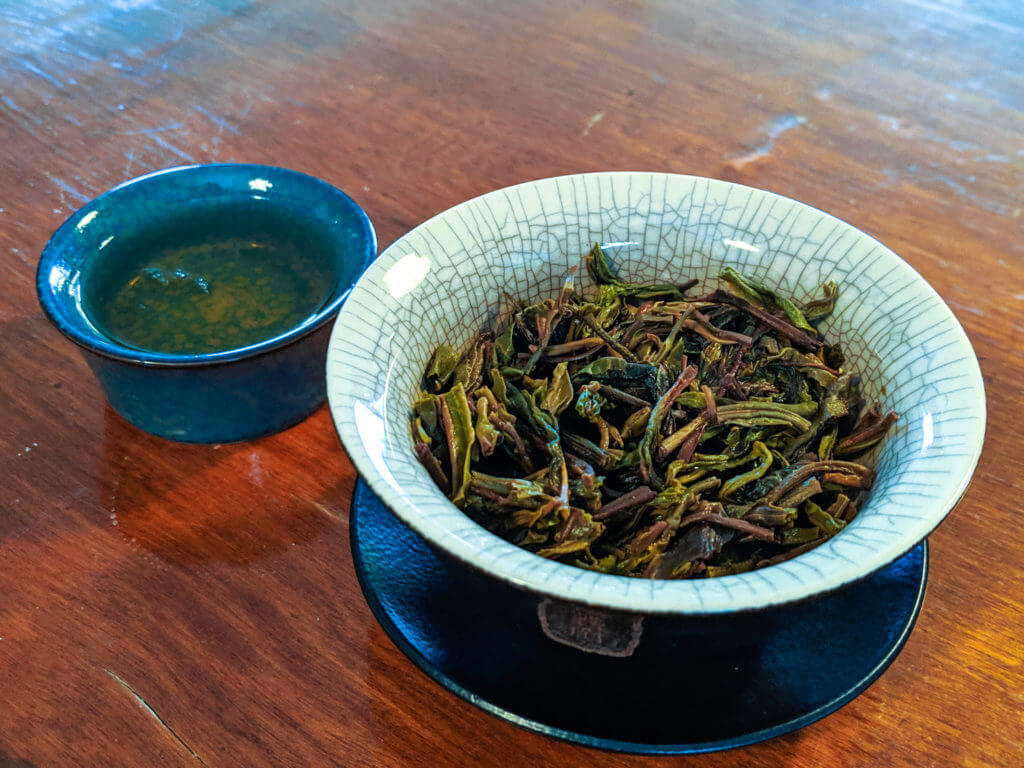 Infusions 1-3
The first infusion is a little bit weak but nice. It's smooth, creamy, and peachy with a woody aftertaste. No bitterness at all but the aftertaste is mildly astringent. The next two infusions get significantly stronger and become increasingly savoury and the taste becomes deep and leathery. It still has the brighter peachy notes but it's being overshadowed by the darker deeper flavours. The astringent aftertaste increases each infusion and keeps your mouth watering between sips. Comparing to my previous notes, this tea is a completely different beast. I did note some woodiness and that it was "slightly savoury" but both of these qualities have gone way up in the last month and a half. I also thought it was very green and grassy tasting, which I am not getting any of now.
Infusions 4-6
The peachy and high notes have faded away by the fifth infusion, and whats left is the savoury woody and leathery flavours. The tea has thickened up and is very broth-like in your mouth. There isn't much depth here, but what you get is really enjoyable so that's not a big complaint from me. As these infusions go on it's starting to get a little bit bitter, but it's pretty slight and nothing to be scared of if you are sensitive to bitter teas. At the sixth infusion I am getting a little bit of clove and a little bit of vanilla.
Infusions 7-10
I am now noticing a new tobacco flavour. That mixed with leather are the main notes for the remainder of the session. The clove and vanilla tastes linger in the background but never become too strong and everything else slowly fades away. As the flavour fades the bitterness increases until I call it quits at the tenth infusion. If you have a high tolerance for bitter flavours you might push this further but to my tastebuds this isn't the nice kind of bitter, it's harsh and a bit sour.
Final thoughts
I am really happy with how this tea has come along since I last tried it and keep in mind that it just hit the six month mark recently, so this is by no means anywhere near it's final form. While this session was a bit short lived due to the harshness at the tail end, it has already smoothed out so much in the last month and a half that I think the next time I get to it the roughness should be gone and I'll get a longer session. Based on the trajectory it's going I think this will end up being a really nice tea that I am happy to have in my pumidor. I am starting to see why they say this cake would normally be $40+ and I think my opinion of it will only improve with time. As it stands right now I would definitely recommend picking this cake up if they press it again.