Last week I received my first order from Whispering Pines and this tea was tossed in as a free sample. I should note that when I placed the order they were unaware that I was a blogger, so this is more of a nice vendor tossing in samples thing rather than a tea blogger perk.
Before receiving it, I knew nothing about this tea but it's an interesting one. Taiwanese Wild Mountain Black was a much loved tea sold by Butiki Teas, and when Butiki closed down this tea disappeared with it. Brendan at Whispering Pines wanted to see it back on the market so he tracked down the original producer and two years later is offering the tea again. If you do some searching you'll find many reviews and posts where people are distraught over the loss of this tea, so I think a lot of people will be happy to see it available again.
Initial Impressions
I know that this is a tired trope and not something that I thought I would ever say, so please know that I say this honestly – I wish that you could smell this through your screen. The dry leaves have the most incredible aroma and this is possibly the nicest and most interesting tea I have ever smelt. With notes of toffee, chocolate, crisp apple, honey, and plum, I can tell that this tea is going to be something special. The description on the product page says that this years harvest is less aromatic than previous years which has me wondering how a more intense smelling tea is even possible.
After a quick rinse the wet leaves have much of the same aroma, but have softened a little. The crisp apple scent has turned more like a sour crab apple, the toffee aroma has moved more forward and theres something in there that reminds me of a light roasted Ethiopian coffee.
I am using 3.5 grams of tea in my 55ml gaiwan, 95° water and am starting with a quick rinse followed by a 5 second infusion that increases by 5 each time.
Infusions 1-3
It comes on light but remarkably smooth. The taste lines up almost perfectly with the aroma. Very strong honey taste, burnt caramel, bright crisp apple like off the dry leave aroma (no sourness at all in the liquor), and faint notes of chocolate and plum. I am getting a new taste that I wasn't picking up off the leaves and it's pretty up front – a very nice muscatel taste, much like a first flush Darjeeling. The leaves seem to be well processed, they are mostly whole and I can pour directly into my cup without a strainer without getting any broken leaves or dust in my cup. The aftertaste is long lasting and is mostly sweetness and apple. I need to actively remind myself to take time between infusions or else I would be just tossing these back.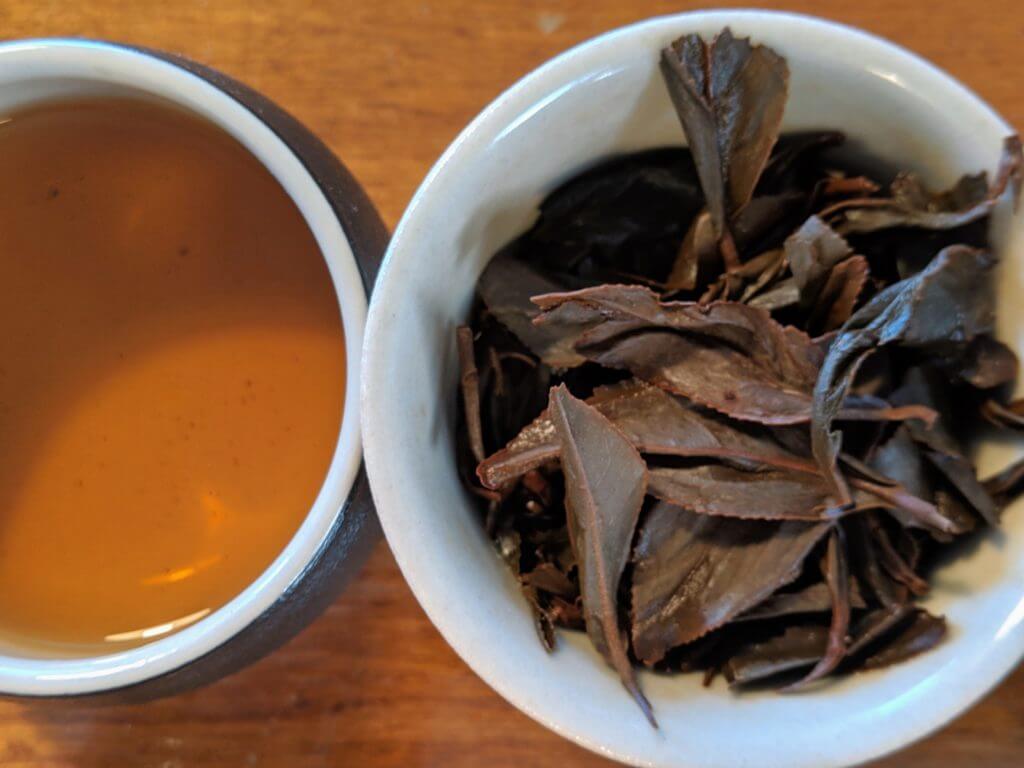 Infusions 4-6
As the session goes on not too much is changing, but the crispness of the apple has changed to a softer, cooked, apple pie kind of taste. This is a complex tea with many layers but they all hit you at once and you have to search for them, rather than having it evolve over time and different notes moving forward and back. I haven't mentioned anything about the texture or mouthfeel of this tea and that isn't an oversight, there just isn't really anything to mention. It's on the thinner side and is the only really unremarkable aspect of this tea. Normally I would mark that as a point against the tea but the aroma and flavour are the showstoppers here and it performs strong enough that I am not missing anything. It seems to me that the flavour is beginning to drop off by the sixth infusion. I could still probably continue with five second increases and it would be fine, but I would rather get a couple strong final infusions that many weaker ones so I'll ramp up the time for the remainder of the session.
Infusions 7-9
The sixth infusion was 30 seconds so I'm going to go 1 minute, 2 minute and 3 minutes for the remainder. I'm glad I did this, as it really brought out the full flavour of the tea but again – not really much has changed since the very beginning of the session. The sweetness has moved from a honey sweet to more of a white sugar sweetness and again the plum flavour has increased, but that's really all I can note.
Final Thoughts
I really think Whispering Pines Taiwanese Wild Mountain Black is a great tea. It has something special to it and I am having a hard time thinking of anybody who wouldn't enjoy it. Basically if you like good tea then at the very least I think you'll appreciate this one and find it worth trying. The 2018 summer harvest that I am drinking is out of stock, but you can register to be emailed when a new batch comes in.
Trying out a new black tea I always question whether it will do better gongfu or western style and this time around I went gongfu in my little gaiwan. I don't think anything was gained from it and with the remainder of my sample I will be tossing it in a pot, but I don't want to burn through my sample too quickly so that will be for another day.
As I said, this was my first time ordering from Whispering Pines and I only did a small order of one sheng cake to try out, but after a session with this I will definitely be diving deeper into their catalogue, although I will most likely wait until the 2019 version of this is available to stock up on it.