Yunnan Sourcing's Competition Grade Tie Guan Yin is a tea that I see recommended constantly. About a year ago I placed my first serious tea order with Yunnan Sourcing and was told by many people that this was a must try, but because the tea comes in at over a dollar Canadian per gram I decided to hold off. I felt like it might be wasted on me, as I didn't have any sort of a developed palate yet so I thought it may be best to wait a bit. After the last year of heavy tea drinking and sampling everything I can get my hands on, I felt ready to add it on to an order.
Initial Impressions
Not much smell on opening the little vacuum sealed bag but after a minute in my warmed gaiwan it starts to open up. I'm getting a strong aroma of apple, fresh grass and cream. Very bright and crisp. It's not a tea that fills the room, you have to get your nose right up to the leaves and give a good whiff but you'll be glad you did. Being really curious about this tea I drank the rinse instead of discarding it. As expected, it is weak but already interesting. It tastes like it smells – creamy, spinachy, asparagus and bright fruits. Already this has a nice, long aftertaste that sticks with me for most of the time I let the tea rest before the first infusion.
I am brewing this tea at 90°C and am using the full 7g pouch in my 140ml gaiwan.
Infusions 1-3
I started with a 15 second infusion and added 5 seconds to the next two. This tea gets right down to business, with the first infusion already being huge and full of flavor. It has got a lot of green to it – spinach, fresh grass, asparagus and a light floral touch. The aftertaste is exceptionally milky, more so than some milk oolongs I've tried.
Infusions 4-9
Generally I like to break up my notes in smaller chunks, but infusions 4-9 all seemed fairly similar to me, or at least enough to lump them together. Each infusion is slightly different than the last, with different notes moving to the front but the general theme remained mostly the same.
For the most part the fresh grass notes have moved to the back. It is still present but has mostly been replaced by a deeper, savoury seaweed taste. The floralness is slowly creeping in more and more, and I am also starting to pick up some honeydew. I haven't had even a hint of bitterness from this yet, but by the sixth infusion I'm starting to get some astringency. The mouthfeel has likely reached its peak for thickness by the eighth infusion. It's fantastically thick and coats your entire mouth and throat. Occasionally I get a little bit of the crisp apple taste that I had in the rinse, but its nowhere near as prominent as I was thinking it would be. The tea is starting to drop off by the eighth and ninth, but is still very drinkable.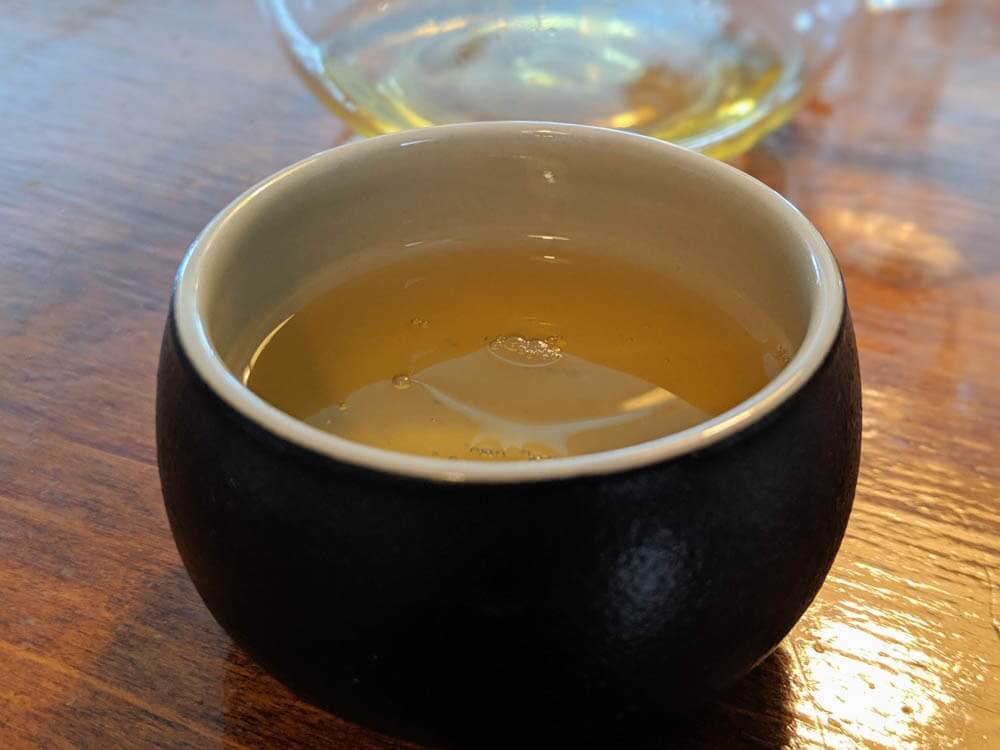 Infusions 10+
The Yunnan Sourcing description for this tea states that it can go for 12+ infusions and I think that's accurate. You'd want to start increasing the infusion times by a good amount now to get the last few cups out, and could likely get another two good ones followed by a weak one or two. I wanted to see how the tea performs at a full boil, so infusion 10 was done at 100°C for three minutes and infusion 11 for six minutes. Both infusions brought out a big floral hit and intense milky flavour and texture. No bitterness at all and possibly the smoothest that it's been throughout the session.
Final Thoughts
If you haven't tried this tea yet, I highly recommend you add it on to your next Yunnan Sourcing order. It is easily the best tie guan yin I have tried, being head and shoulders above the rest. I think my gut feeling to wait a year ago was partially right. I probably wouldn't have appreciated it then as much as I do now. However, I would still recommend this tea to people just getting started. Try it out, see how good the tea world really can be, then come back and revisit it again later.